Prince Charles and Prince William call for action to end wildlife crime
22 May 2013
Update: HRH The Prince of Wales (WWF-UK's President) and HRH The Duke of Cambridge hosted a high-profile international conference at St James's Palace on 21 May, in collaboration with the UK government, to focus world attention on the urgent battle to end illegal trade in wildlife (#endwildlifecrime).

See our Storify page all about the royal event here.

You can read the Prince of Wales's speech here in full. And watch this short video of Prince William, Duke of Cambridge, speaking about illegal wildlife trade at the event...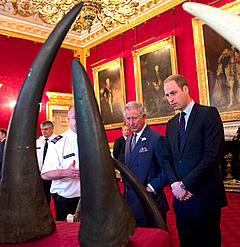 Wildlife poaching is nothing new, but the scale has now reached new heights. The world is faced with an epidemic of poaching and trafficking of illegal wildlife products - driven by growing demand, in particular from south-east Asia.

Wildlife losses have reached unsustainable levels - tens of thousands of animals in some places. Some African elephant populations face possible extinction within a decade because of ivory poaching. Both black and white rhino are under unprecedented attack for their horn, which is being traded as a spurious lifestyle drug. Wild tiger numbers across Asia have decreased by more than 90% in 100 years - killed for their skins and bones.

The aim of the royal event on 21 May was to get illegal wildlife trade acknowledged as the serious crime that it is. It's often, in fact, organised by the same international criminal networks involved in illicit arms or drug smuggling, money laundering, corruption and violence.

Illegal wildlife trade is more than simply a danger to the natural world - it's a threat to global stability and security. It's time for wildlife crime to be made a priority by world leaders and law enforcers.

The Prince of Wales and Duke of Cambridge, alongside environment secretary Owen Paterson, addressed influential guests from 26 of the countries particularly affected by illegal wildlife trade, calling for a global partnership and urgent action at the highest levels to end wildlife crime - specifically to:
reduce demand for endangered wildlife products in markets around the world
step up law enforcement against the criminals involved
help local/rural communities find viable alternatives to illegal wildlife trade
Look out for the hashtag #endwildlifecrime on Twitter.

You can...
Find out more about WWF and TRAFFIC's campaign to Stop Illegal Wildlife Trade
.
Enjoy some
amazing images and insights
from hands-on wildlife conservation workers in the field who experience life at the sharp end of wildlife protection every day.
See the UK government's latest plans for tackling illegal wildlife trade
blog comments powered by

Disqus