Together we did it! – Virunga safe from immediate oil threat
11 June 2014
After a year of campaigning, and three quarters of a million signatures, we did it! UK oil company, Soco, has announced that it will end its operations in Virunga National Park. It has also pledged to remain out of all other UNESCO World Heritage Sites.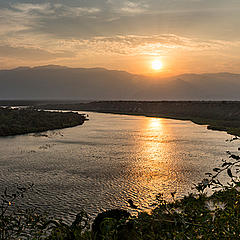 Soco's decision to withdraw from Virunga, Africa's oldest national park, is a victory for the people that depend directly on the park for their food and livelihood. It's also a triumph for everyone who values the rare plants, animals and habitats the park was set up to protect.

Soco's commitment comes following mediation as part of the OECD process. OECD guidelines are the world's most respected rules governing the activities of corporations.

"Today is a victory for our planet and for good practices in business. This success is the work of government officials, activists within DRC and supporters worldwide who joined together to help remove the most immediate threat to Virunga," said Marco Lambertini, Director General of WWF International. "Now is the time for the DRC government to reaffirm its conviction that Virunga has outstanding universal value for all humanity by cancelling all oil concessions overlapping the park as requested by UNESCO."

Virunga is not only Africa's oldest national park, but also a treasured World Heritage Site.
It has an incredible range of wonderful wildlife - including huge numbers of unique birds, African icons like lions, elephants, hippos, chimps and the remarkable okapi. It is also home to a quarter of the world's critically endangered mountain gorillas.

Soco will withdraw from Virunga after finishing its current activities, which include seismic testing in Lake Edward. The company have committed not to drill for oil in the park, which could lead to severe environmental damage.

Today's commitment sends a message that World Heritage Sites and other fragile natural areas must be protected, and WWF will continue to fight for these places, as long as they remain in danger.

This is a huge victory for our planet. We cannot thank you enough.

Visit the campaign story to find out more.