Construction industry building a future without deforestation – but many businesses have further to go
17 July 2015
The construction industry has come out as a clear leader in a new WWF-UK timber scorecard published today.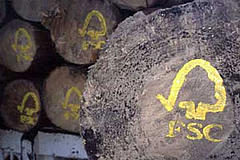 Having analysed over 100 businesses to see if they are transparent and informative when it comes to using sustainable timber, the report authors found that Travis Perkins, Mace, Saint-Gobain and Carillion all scored the maximum '3 trees' rating.

This indicates the companies have made public commitments and there is visible evidence that they have set up the right policies to ensure sustainable timber is being used as much as possible in their products.

Also leading the way are major supermarkets such as Morrisons and Sainsbury's, plus Macmillan Publishers and M&S. Several brands occupy the middle ground on the journey to transforming their supply chains and are making solid progress, including Boots, IKEA, and Penguin Random House.

However, many businesses have a long way to go, including several publishers, card companies, furniture retailers and musical instrument suppliers.

The scorecard looks at companies' practices and policies in relation to sustainably sourced timber and timber products, against a backdrop of increasing deforestation. Helpfully, the scoring process has raised awareness with companies of the perils of forest destruction, which leads to habitat loss and contributes to climate change.

Recent WWF-UK research shows that consumers do care about the type of timber used and where it's from, but they are left wanting; information for consumers around buying products made from sustainable timber is far less available than that on animal welfare in food, or fair trade coffee and chocolate.

Julia Young of WWF-UK's forest team explains that "as with many agricultural products such as meat or eggs it is just as important to know where our timber products are coming from. If we don't then UK consumers could be contributing to deforestation."

The scorecard shows, however, that change is possible, and that many household names are making progress on using sustainable timber. Julia adds: "Some are in fact making great progress but it's behind the scenes – they need to shout about it and make customers aware.

"Some of the companies who didn't fare so well have engaged with WWF-UK since they were given their scores, to look at how they can improve their policy and communication around sustainable timber. As a result, we have decided to update the scores in the autumn to reflect immediate changes made by businesses."

The scorecard will be repeated in full at least twice more before 2020, building on WWF-UK's Save Forests campaign, which aims to get UK business to pledge to buy timber products from sustainable sources by 2020, and to support a move to a 100 per cent sustainable timber market by 2020.

The campaign also calls for the European Union Timber Regulation (EUTR) loopholes to be closed by making it apply to such products as books, chairs and toys, currently not included in the regulation. This means they can currently be imported and sold legally in the EU even if they are not shown to be made from legally logged wood.

The campaign is designed to show that businesses can be part of the solution rather than part of the problems facing our global forests today, by publishing clear policies and stating how well they are doing in sustainable sourcing.

As a result of the scorecard, we are calling for:

Business: All businesses scoring two or three trees to continue their commitments in responsible forest trade and communicate this; those scoring zero or one tree to make a commitment to procure their timber and timber products from sustainable sources and to communicate this to their customers.

European Commission: To recommend the scope of the EU Timber Regulation be expanded so that all wood-based products are covered, alongside measures to ensure the regulation is being properly implemented and enforced in all 28 member states.

UK government: To establish incentives and mechanisms to enable the transition to a market in sustainable timber and timber products by 2020.

Consumers: Only purchase wood-based products that are from responsible sources – e.g. clearly indicated as from a Forest Stewardship Council (FSC) or recycled source and ask companies where the timber in their products have come from if it isn't clear in their stores or on their websites.