One in Five Challenge - second annual report 2010-11
14 June 2012
WWF's One in Five Challenge is a 5-year programme designed to help companies reduce their reliance on business flying and transform the way they meet and travel.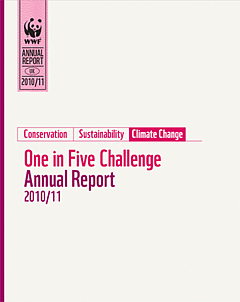 Over half of the members have met the Challenge of cutting at least 20% of their flights - and they have all stayed involved to make further cost and carbon savings.

They have also reporting using video-conferencing and other technologies far more than they expected - discovering the benefits of easy collaboration, speeding up decisions, and decreasing staff time spent away from the office and their families.

The latest set of results is impressive and shows that member companies have, on average, cut their flights:

by 19% in the first year, saving £1.5 million and reducing emissions by 1,500 tonnes CO2
by 41% over two years, saving £2.4 million and reducing emissions by 3,600 tonnes CO2
Companies have achieved these results by using a variety of measures including:
questioning the need for travel
monitoring flights in corporate carbon reporting
increasing their use of rail and low-carbon transport
increasing their use of video and audio conferencing
Members say that lower carbon ways of staying connected are actually helping them to increase their efficiency and stay competitive.
This is the second annual report of the One in Five Challenge, covering the financial year 2010-11.
One in Five Challenge Annual Report 2010-11
blog comments powered by

Disqus