Time to tweet: one last day of action to help save Brazil's forests!
21 May 2012
President Dilma Rousseff has until this Friday (25 May) to decide whether to approve or veto disastrous changes to Brazil's Forest Code. Join us on Twitter for a global VETO call, today between 2 and 4pm UK time.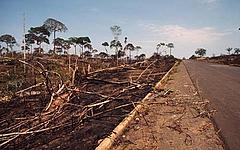 The proposed changes to Brazil's Forest Code would provide amnesties for illegal deforestation in important regions like the Amazon, and could release up to 28 billion tonnes of CO2.

Only a VETO from the President can stop it.

Please help us drive this message home to President Dilma with one final flurry of social media activity. Just log on to Twitter between 2 and 4pm and get active.

How to take part:

Between 2 and 4 pm, post a series of tweets to get the word out about the Forest Code and how your followers can help.

Please always use both hashtags #vetatudodilma (Veto everything, Dilma) and #SOSBrazil, and link to our joint petition with Avaaz http://ow.ly/aQCoC 

Suggested tweets:

Urgent action is needed to help save the Amazon. Please sign the petition & share http://ow.ly/aQCoC #VetaTudoDilma #SOSBrazil PLS RT

1.7 million have asked Brazil's president to veto a destructive forest law. JOIN THEM. http://ow.ly/aQCoC #vetatudodilma #SOSBrazil PLS RT

@Dilmabr President Dilma, don't land on the wrong side of history. A living Amazon = a prosperous Brazil #vetatudodilma #SOSBrazil

Find out more on wwf.org.uk/sosbrazil or on our new blog site.
 
blog comments powered by

Disqus