International development
To fight poverty, we need to tackle the root causes of the problem. We need people at every level to take action, from local communities to national governments. And we need policies to help them do this.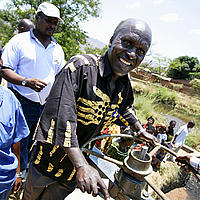 We can help reduce poverty while conserving natural resources by:
improving policies – for example, reforming water and power subsidies to encourage sustainability and assist the poor
providing rural communities with forest and land rights
strengthening local communities' decision-making power on things like how their natural resources, such as fisheries, are managed
What WWF is doing
We help decision-makers to understand the part the environment plays in developing economies and reducing poverty.

Development programmes, policies and funding can have positive or negative impacts on the environment. We want to re-shape the development debate.

We don't want to see policy-makers separating environmental and developmental issues when addressing global challenges such as poverty, climate change, aging populations and urbanisation.

We're working to influence policies and actions that have an impact on the environment and development.

People we work with include:

the UK government, especially the Department for International Development (DFID)
multilateral donors, such as the European Union
other public sector agencies, including emerging economy governments such as China and India
A focus on the environment is critical if development objectives are to be sustained and poverty is to be reduced in the long term.