A study into the economics of gas and offshore wind
30 November 2012
A new report on the economics of gas and offshore wind, which was written by Cambridge Econometrics and funded by WWF-UK and Greenpeace, compares two illustrative scenarios for the electricity generation mix in 2030.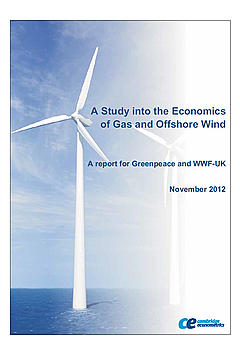 In the first, there is steady growth in offshore wind capacity through to 2030; in the second there is no new offshore wind after 2020 and the UK instead uses significantly more gas for its electricity needs. The report shows:
UK GDP is £20bn higher (0.8%) in the wind scenario than the gas scenario by 2030, with marginal impacts on electricity prices.
70,000 more full-time equivalent jobs would be created in the wind scenario than the gas scenario by 2030.
By investing more in offshore wind the UK would save £8bn a year on gas imports by 2030
Carbon emissions in the UK's power sector by 2030 are some two thirds lower in the wind scenario than in the gas scenario
The conclusions of the report are robust to a wide range of assumptions, including lower gas prices in the future
The report also finds that the scale of benefits depends on the UK developing a healthy supply chain for manufacturing renewable infrastructure. This is in turn dependent on investors and manufacturers receiving policy certainty. Without the supply chain benefits, the high offshore wind scenario has a positive impact on growth relative to the gas heavy scenario. However, there are considerably fewer benefits if supply chain companies locate abroad than in the UK
The study into the economics of gas and offshore wind, has
received support
from a wide range of businesses, individuals and organisations, welcoming the contribution of the report to the energy debate.
This report follows WWF's
Positive Energy report
which was published last year and showed that it is perfectly feasible for renewables to deliver at least 60% of the UK's electricity demand by 2030 and
On Picking Winners
, written by Dr Rob Gross and a team from Imperial College which argues that carbon pricing alone is not sufficient to tackle climate change.
The economics of gas and offshore wind
blog comments powered by

Disqus