Building the Living Planet Centre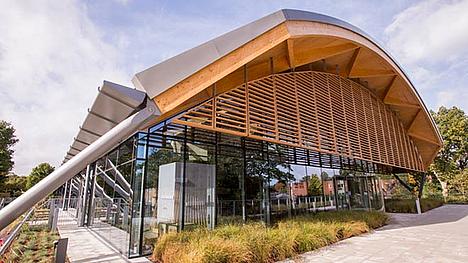 Building sustainability
From the underground heat pumps to the solar panels on the roof, we've created the greenest building we possibly could.
The Living Planet Centre is at the forefront of sustainable design and construction. Designed by Hopkins Architects and constructed by Willmott Dixon, the building itself is an inspirational educational resource.

From the start of the project we aspired to create a building that would qualify for the award of BREEAM "Outstanding", and on 28 May 2014 we achieved this goal.  BREEAM is the world's foremost environmental assesssment method and rating system for buildings.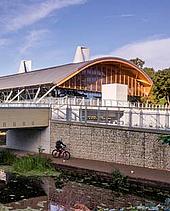 We wanted to show that, through the smart use of design, materials and technology, it's possible to create a state-of-the-art building with minimal environmental impact.

We invited policy-makers, industry representatives, designers, architects, students and the public to visit the building and discover how we could make this happen.

We wanted our presence to have a positive effect on the local environment. Avoiding unnecessary damage to undeveloped land or natural systems, we chose a 'brownfield' site – a car park owned and run by Woking Borough Council – that was already covered in tarmac and was earmarked for further development. The car park is still operating as normal beneath us. Apart from four disabled bays we've not reserved any spaces for our employees – we want staff and visitors to make use of the excellent local public transport links instead.

We planted native species to encourage wildlife around the site – which backs onto ancient protected heathland and is bordered to the south by the Basingstoke Canal, a nationally important habitat for many freshwater species. By creating a harmonious link between urban and rural environments, the Living Planet Centre embodies our mission to create a future where people and nature thrive.

Find out more about our journey to the Living Planet Centre or book a behind-the-scenes tour.
Our new home
Remain hidden on an industrial estate or build a cost-effective, green option a quick hop from Waterloo? Many factors convinced us the Living Planet Centre was the right move.
Since 1987, we'd been based at Panda House, in Godalming. Back then, computers were a rare species and telephones were immobile. If we wanted to contact WWF colleagues overseas, we sent letters or faxes or endured expensive, crackly phone calls. Climate change was hardly mentioned. Earth's human population had just reached five billion – two billion fewer than today.

The world has changed hugely, and so has the nature of our work. Our headquarters was no longer fit for purpose. 

When the lease on our premises was set to expire, we considered our options. Attempt to bring the existing building up to standard? Rent a different, greener office? Or create our own dream building – a modern HQ where we could work more effectively and spread our message? 

A pioneering example of sustainable architecture in action!

With the extremely generous offer of a £5 million donation from our long-standing supporter – the Rufford Foundation – for the sole purpose of developing a new space for us, we soon realised there could be only one decision. Building our own premises was the best and most cost-effective option and offered us so many other opportunities to engage with people more widely.

We launched a capital appeal and reached £11.5 million from a number of donors. Thanks to their vision and generosity, we didn't have to divert money away from our conservation projects around the world – and we'll soon be saving money in running costs.

So here we are at our brilliantly located site in Woking, a quick hop along the line from Waterloo. Beneath us, a municipal car park; behind us, ancient heathland and a waterway buzzing with dragonflies.

In one of the greenest buildings in the UK, we'll be showing how it's possible for people to live in harmony with nature. And we can't wait to welcome you.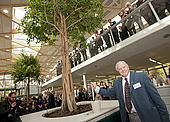 Opened by Sir David Attenborough
Sir David Attenborough planted a tree to officially open the Living Planet Centre our inspirational new home. 
With thanks to our Donors
We are settling into our new home nicely but without the support of our generous donors this would not have been possible.
The Rufford Foundation
The Johansson Family
The Ingram Trust
The Ernest Kleinwort Charitable Trust
Kinnarps
Sir Adrian and Lady Holman
Cisco
Interface
Garfield Weston Foundation
Dimension Data
The Shears Foundation
Stelios Philanthropic Foundation
Ed Smith
Valentin von Massow
The Martin Laing Foundation
The Kirby Laing Foundation
Carol Kemm
Roger Hooper
Michiel Bakker
Cisco
Working together to showcase sustainable IT Solutions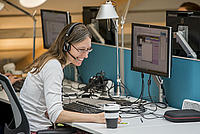 Cisco, together with global ICT solutions and implementation partner Dimension Data, provided much of the IT infrastructure for WWF's Living Planet Centre as a gift in kind.

We were delighted to be the beneficiary of state-of-the-art IT systems, which facilitate our sustainable working practices and aid in further reducing our carbon footprint. Using refurbished technology from the 2012 Olympics, the technology systems have been specifically designed to meet our business and sustainability requirements. Through the partnership, WWF will continue to lead by example by further reducing domestic and international travel, connecting with colleagues and partners via high quality video conferencing.

Working together with Cisco and other technology partners, we've ensured that the IT systems within the Living Planet Centre are managed in a sustainable manner – including cooling the data centre via ground source cooling. This is a unique feature and helps in further reducing Co2.

We also benefit from advice on sustainable technology both in the UK and across the network and a WWF sustainability advisor works with Cisco with the aim of reducing the environmental impact of the IT sector.

Cisco aims to reduce energy use and GHG emissions throughout their operations and has received top rankings for its environmental sustainability efforts: Carbon Disclosure Project Carbon Disclosure Leadership Index (CDLI) for six consecutive years (2008-2013).


Dimension Data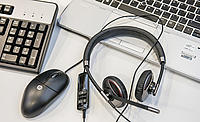 As a global leader in the provision and management of specialist IT infrastructure solutions and services, Dimension Data provided a generous gift in kind of their IT consultancy services for the Living Planet Centre.

They used their expertise, knowledge and services to implement the Living Planet Centre's IT infrastructure, and continue to work with us to shape the IT strategy, define the architecture, and deliver the technology roadmap under the key principle of sustainable IT solutions.


Interface
Biosfera: sustainable flooring for the LPC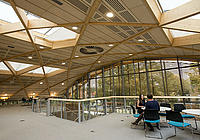 Pioneering sustainable flooring manufacturer, Interface, provided the flooring for the Living Planet Centre.

The carpet tiles in our Living Planet Centre are from Interface's Biosfera collection, made from 100% recycled yarn. They were installed using a glue-less installation system, 'Tac Tiles', and can be recycled at the end of their product life-cycle. The glue-less installation reduces the environmental impact drastically and virtually eliminates volatile organic compounds (VOCs).

The partnership between WWF and Interface is one based on common values. The yarn used in Biosfera is made from industrial waste sources such as used fishing nets and fluff from used carpets – helping to turn waste from the flooring and other industries into valuable raw materials. The collection has also been manufactured to include less yarn than ever before, significantly reducing its environmental footprint without compromising performance.