Charitable trusts & foundations
Giving through trusts and foundations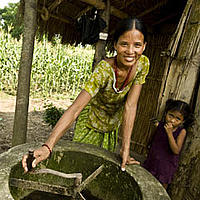 Trusts and foundations play an important role in the achievement of WWF's global conservation and environment goals.

To protect our wildlife and natural world, laws and policies need changing and international agreements such as the Kyoto agreement on climate change need to be struck. In partnership with WWF great things can be achieved; species are brought back from the brink of extinction, laws are changed and international agreements are made.

Sir Richard Kleinwort Bt, Trustee of the Ernest Kleinwort Charitable Trust:

"More than 30 years ago, my grandfather developed a passion for nature conservation. Since that time we have seen many positive changes. Today my family continues whole-heartedly to support WWF and I cannot recommend too highly the long-term contribution WWF makes to our planet.

"A grant made by my family Trust more than 20 years ago helped set up what has now become the groundbreaking education department at WWF. This team played a major role in getting Education for Sustainable Development onto the National Curriculum for England, and is committed to assisting us all to be responsible global citizens. I am delighted that our support has led to such significant progress."