Finance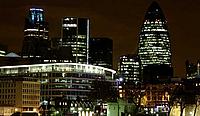 Influencing the world's financial markets is an essential part of WWF's drive to achieve a One Planet Future, where people and nature thrive together.
Finance serves every economic sector that has major impacts on our environment, including energy production, fishing, agriculture and logging. We need to ensure that money is only invested in areas that protect the planet and push us towards a low-carbon future.
The challenge
Action is required urgently. For example, the investment decisions made for the energy sector in the next decade will determine its infrastructure for the first half of the 21st century. To achieve the carbon emission cuts needed to prevent disastrous changes in global temperature, investments must be pulled out of carbon intensive sectors such as the Canadian oil sands, and diverted to cleaner energy solutions.

Shifting our financial markets will involve working on a range of complex and interrelated issues:


financial systems prioritise economic outcomes, looking for short-term wins rather than at the long-terms need of the environment. This means that the environmental cost of business activities is seldom factored into investment decisions.
financial markets are fragmented, meaning that individual and institutional investors find it difficult to track where their money is being spent and the impact it makes.

financial markets pursue unlimited growth, which ultimately cannot be sustained in a world with finite natural resources.
What is WWF doing about it?
WWF has already had major breakthroughs, including forcing the UK government's Export Credit Guarantee Department to back out of the unsustainable Sakhalin II project.

We work with partners such as Fair Pensions, to ensure people's pension schemes are more ethical and sustainable, and Banktrack, to ensure pressure is put on large financial institutions to make ethical investments. We also work with investors, banks and insurers to challenge the energy sector about its impact on the environment.

More recently WWF became a founding partner of The Finance Lab, which  is a collaborative initiative that aims to re-think the financial system and take practical action to stimulate transformational change, so that finance serves the interests of society and the environment.  We believe that change will come as a result of diverse stakeholders from finance and business, government, academia and civil society working together in creative new ways. 

The work of The Finance Lab begins in July 2009 with three workshops that will explore the role of finance.  For more information go to The Finance Lab website.