Our climate work in the UK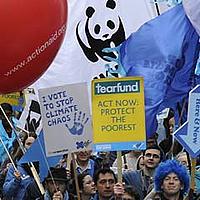 Our work to tackle climate change takes place all round the world, but the UK is a particularly important player because of our world-leading climate legislation.

As a result of this, the UK provides an example for other industrialised countries to follow and we have greater influence in decisions to tackle climate change at European and international levels. 


The UK also has global influence because:

Many of the world's leading scientific institutions, including those working on climate change, are based in here
London is  a major centre for the world's financial and carbon markets
The UK is at the forefront of many key debates - for example on carbon capture and storage, nuclear power, energy efficiency, renewable energy, carbon markets and the links between climate change adaptation and development.

The power sector
The power sector is the largest source of emissions in the UK. We are working to secure a nearly carbon-free power sector by 2030, based mostly on switching to renewable energy sources.

Aviation and transport
In the UK, transport accounts for around 28% of our total carbon emissions. We work to promote effective regulation of emissions from flying, and also alternatives to high-carbon business travel.

Using less energy in the home
We work with other organisations to promote effective action to help people reduce their carbon emissions and their energy bills through energy efficiency measures.

Cutting emissions in Europe
Europe plays a key role on tackling climate change as EU Directives set some important environmental laws. We work closed with our colleagues in WWF offices around Europe to campaign for stronger and more effective action.

Working in Scotland and Wales
WWF Scotland and WWF Cymru are working to ensure that those countries show strong leadership on climate change and energy – for example, Scotland's commitment to meet all of its electricity needs from renewable energy by 2020.