Atlantic forest
The Atlantic forest, which stretches along the coast of Brazil and inland to Paraguay and Argentina, is one of the most vulnerable forests in the world. It once covered a million square kilometres - four times the size of the UK. Today, only 7% of the original forest remains intact - but it's still home to an amazing array of species.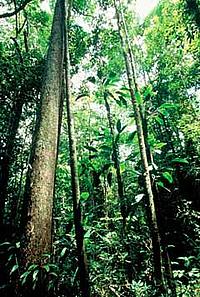 The Atlantic rainforest comprises several ecosystems including coastal, marine and forest habitats. They're home to much of the region's spectacular wildlife such as jaguars, tree anteaters, tapirs and howler monkeys, as well as some rare and colourful amphibians.

The area also has more bird species than all of Europe, and includes the only living examples of nearly 10,000 species of plant.

• 450 species of trees have been found in just one hectare of Atlantic forest.
• 92% of the Atlantic forest's amphibians are found nowhere else on Earth.
Why we're involved
The unique species of the Atlantic forest face a struggle to survive in isolated pockets of forest - all that's left after centuries of clearing for agriculture and urban development. And the pressure is increasing as the region's population grows - two of the world's biggest cities, Rio de Janeiro and Sao Paulo, lie within the Atlantic forest region.

In Brazil, urbanisation, illegal logging, agricultural expansion and road building threaten the remaining Atlantic forest. In Paraguay, the biggest threat comes from increased soy production.

As well as habitat loss, hunting and the trade in wildlife threaten many species, including the giant armadillo and the thin-spined porcupine.
How we're helping
In Brazil, we're helping make sure protected areas of the Atlantic forest in the state of Sao Paulo are managed better.

In Paraguay, we're providing incentives to encourage forest conservation and regeneration in areas where soya and other crops are produced.

By law, farms in Paraguay must retain areas of forest, but in the past this has rarely been enforced. Working with relevant government departments, we've helped introduce a scheme to help farmers comply with the forest law. For example, those who've cleared forest illegally have to let it regrow or pay a fine, while those who've conserved more land than required by law can be rewarded.

Read more about our work in the Atlantic forests of Paraguay and Brazil.


In Paraguay some 13% of the original forest remains, albeit in a highly fragmented and degraded state. Forest loss has primarily been driven by conversion to agriculture, with soya being the main crop. But a Forest Conversion Moratorium that began in 2004 has helped reduce deforestation rate by 90%.

The Serra do Mar State Park contains the largest remnant of Brazil's Atlantic forests, and is home to almost half of all amphibians, reptiles, birds and mammals in the region. But it's still poorly protected, vulnerable to hunting and urban expansion. We're working with local authorities to make this park a more effective protected area.