Barking up the right tree?
30 March 2012
A study of local authorities' timber procurement policies.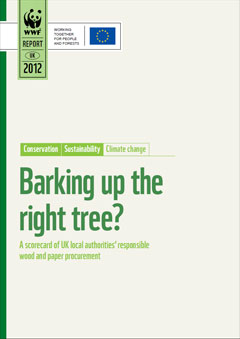 The UK is a big market for tropical timber, with the public sector responsible for up to 40% of the timber used in the UK. That is why we set up our EU-funded What Wood You Choose? campaign. The campaign has worked with UK business, central and local government and consumers to raise awareness that the timber we use should come from well-managed forests, such as those certified by the Forest Stewardship Council® (FSC®), where people and nature are respected. We can all help protect forests by choosing responsibly-sourced timber, and local authorities have a key role to play in this. This report is part of our work to advise and support local authorities in this role.

The report assesses UK local authorities on their success in procuring legal and sustainable/responsible timber and wood products. It complements previous surveys we undertook in 2007, 2006, 2001 and 1997.

In December 2011, we sent a letter to all 433 local authorities in England, Wales, Scotland and Northern Ireland, asking them to take part in our nationwide survey on timber product procurement. We used a five-tier rating system, ranging from red to green, to demonstrate the level of implementation of public procurement policies on timber products.

The results for the UK showed that depending on whether the number of local authorities with a sustainable timber product procurement policy in place was calculated as a proportion of the total number of local authorities in the UK or as a proportion of the total number of local authorities in the UK who responded, the figure was either 16% or 57%.

blog comments powered by

Disqus