Orangutans: VIPs of Asia's rainforests
Forest destruction has halved orangutan numbers – but we can all help protect them.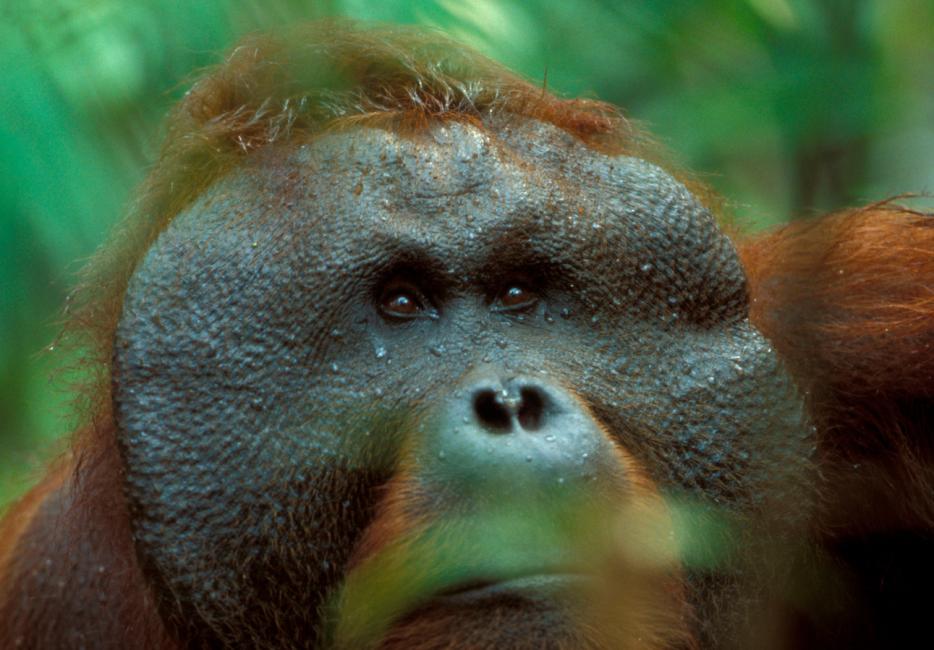 Orangutans: VIPs of Asia's rainforests species:
Critically endangered (Around 104700 remain)
Pongo pygmaeus
Affected by: Food & farming , Habitat loss and fragmentation , Illegal wildlife trade
Critically endangered (Around 14000 remain)
Pongo abelii
Affected by: Food & farming , Habitat loss and fragmentation , Illegal wildlife trade
What an extraordinary creature the orangutan is. It's one of the most human-like of all wild animals – although of course with extra-long arms and more ginger hair.
But this 'person of the forest' (that's what orangutan means in Malay) is now at serious risk. And one of the biggest threats to them is in lots of the everyday products we buy.
A century ago, orangutans lived in forests all across south-east Asia – from southern China to the Indonesian island of Java. Today they're only found on two islands: Sumatra and Borneo. As the orangutans' forests have disappeared, so have their numbers – cut by around half in just the last 60 years.
It's vitally important to protect these incredible animals – Asia's only great apes – and their rainforest habitat before it's too late. Your support is crucial, and the good news is you can help in lots of ways.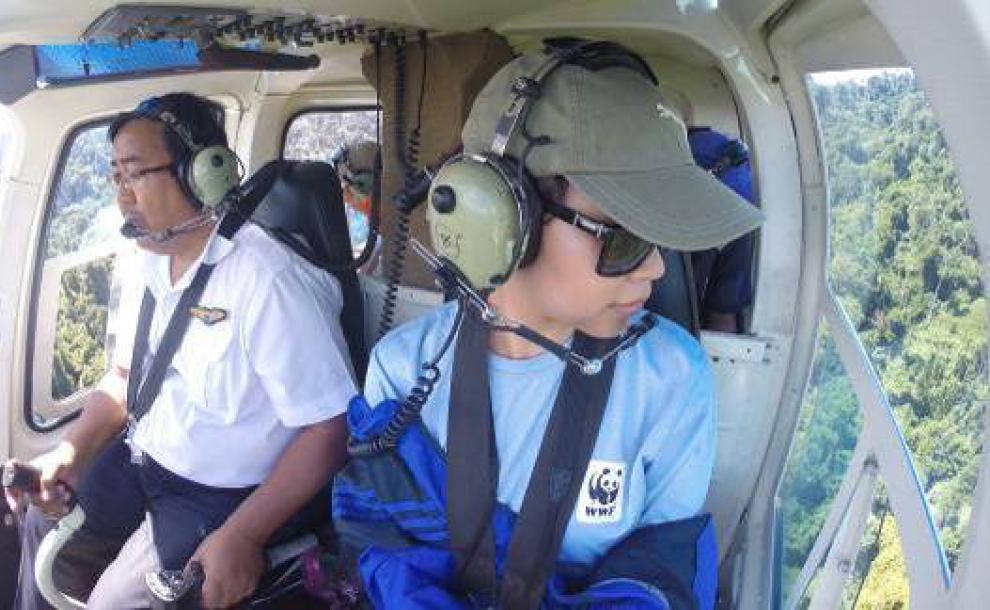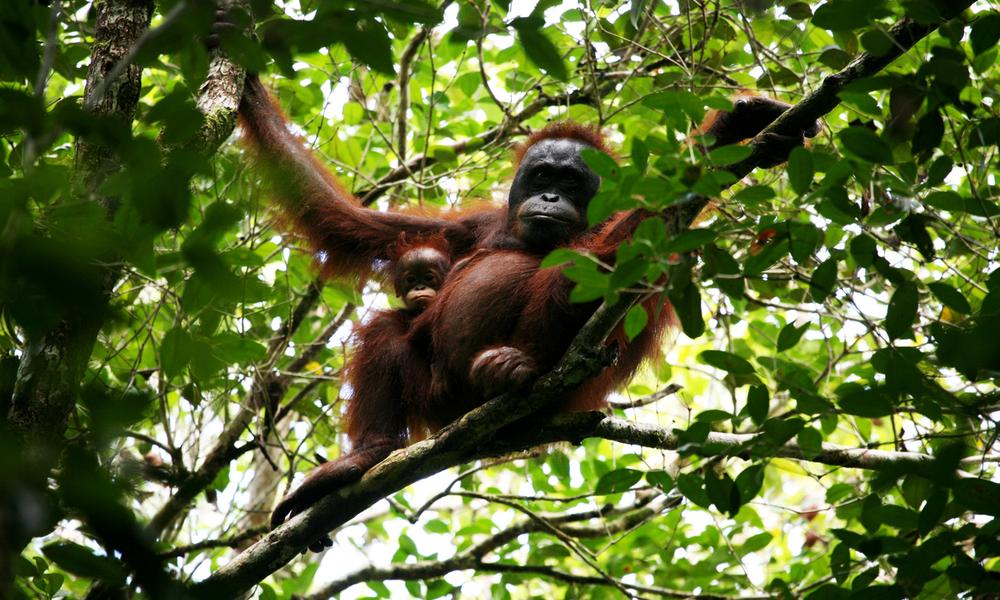 © WWF-Indonesia / Jimmy Syahirsyah
Where do orangutans live?
Orangutans spend most of their lives up in trees, foraging, moving between branches, and building treetop nests for resting during the day and for a good night's sleep. Orangutans are primarily tree-dwelling primates, but Bornean orangutans, both males and females, are also known to walk on the ground to forage for food or travel to other areas. 
In the past, orangutans used to live as far north as southern China, and throughout Southeast Asia. However, due to hunting and habitat loss, the species range is now restricted to the fragmented tropical rainforests on the islands of Sumatra and Borneo.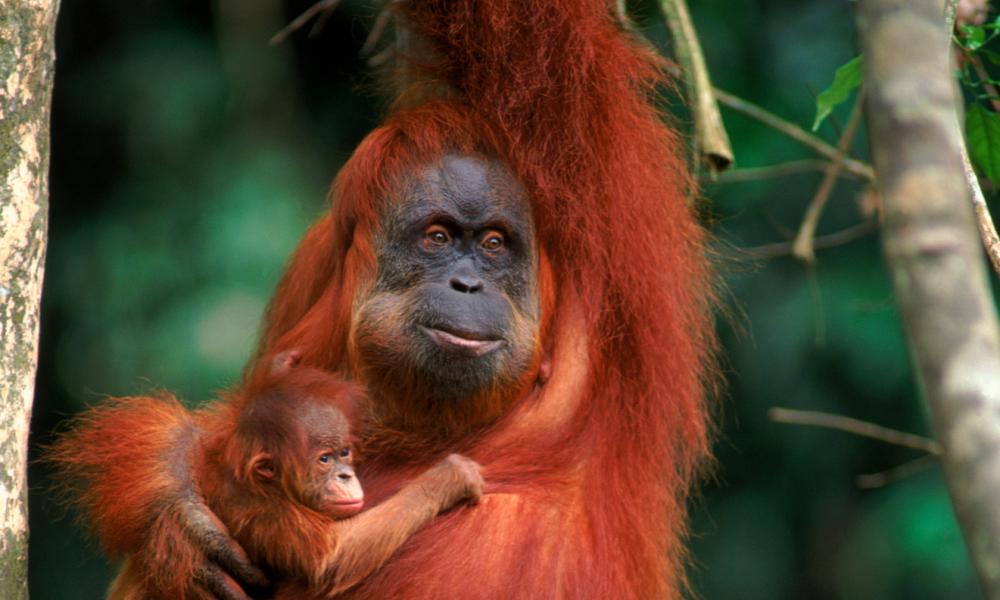 Why orangutans are so important
Orangutans are known as gardeners of the forest, because they help spread seeds around. You know how it works – they eat fruit from the trees, the seeds come out the other end, the forest spreads. Especially the larger seeds that don't get spread by smaller animals.
Without that seed distribution, the rainforests of Borneo and Sumatra would be drastically different, and that would have impacts on all the people and animals that live in or use those rainforests.
The people of Borneo and Sumatra depend on the orang-utan's rainforest for food, water, income and environmental protection.
© Fiona Rogers
How we're helping orangutans
© N.C. Turner / WWF

The forest certification system

Forest certification involves inspecting and tracking timber, paper pulp and other forest products to ensure they've been harvested correctly.

© Thippakone Thammavongsa - WWF-Laos

The Trillion Trees venture: saving our trees

Here's our vision for a trillion trees to be restored, saved from loss, and better protected around the world by 2050.