Education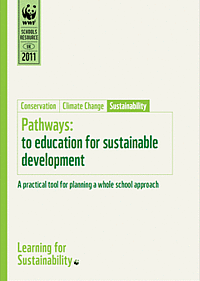 WWF Pathways re-issued for 2012
WWF has re-issued the Pathways resource, in order to support a new generation of schools who are working towards a sustainable future in a new climate.
Pathways offers a whole school approach to addressing Sustainability in schools, with a step-by-step guide to staff who are interested in facilitating this process.

The guide can be used as a whole resource, or activities can be used alone. They are organised around a structure of opening and learning, then planning, reviewing progress and learning from it, and then moving forward. The process is designed to be optimally open and collaborative and to engage all stakeholders in a school.

Children starting school today will be growing up in a world that's very different from the one we know now, as climate change and over-exploitation of natural resources intensifies and economic and social changes place strong demands on young people

We believe that our school system school is essentially designed according to a blueprint of the past, not the future, and that our children can learn new skills and new ways of living sustainably on our planet, with respect for themselves, each other, their communities and the planet.

We advocate an education system in which the values that underpin sustainability shape teaching and learning: community and cooperation, learning, questioning and enquiry.

Pathways is downloadable and can be used freely by schools.