Climate change
Climate change is a big  issue for WWF because it affects everything we do.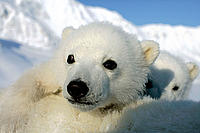 A warming planet alters weather patterns and water supplies, seasonal growth for plants and ways of life for people and wildlife. It threatens the integrity of whole ecosystems, from coral reefs to the Arctic. The impacts are already being felt all over the world.

And it will get worse - especially if urgent action is not taken to reduce emissions of carbon dioxide and other greenhouse gases. The World Bank has warned that the world is currently headed for average warming of 4oC or more – and that this would be devastating for nature and people, particularly the world's poorest.

There's lots we can do, but not much time.

That's why WWF is taking urgent, positive action to:
Limit climate change – strong action to reduce emissions is needed in each and every country, especially in the developed nations and the major emerging economies. Governments have promised to work towards an international agreement to limit emissions in 2015, and we are working to hold them to this promise. But we are also working in all key countries to develop solutions and to persuade governments to take stronger action at home.

Provide solutions – the main driver of climate change is carbon dioxide from burning fossil fossil fuels, but emissions also come from land use and deforestation. We are working around the world to reduce energy waste and to promote a vision of a world which gets 100% of its energy needs from clean, renewable energy. We also work to protect the world's forests and to develop more sustainable food and agricultural systems, both of which help to address climate change.

Protect wildlife and people – Even if we are successful in cutting emissions, the impacts of climate change are already being felt from the Arctic to the Amazon, and some future warming is inevitable. We are working to help some of the world's most vulnerable communities and natural habitats to cope and adapt to the impacts.
The climate numbers that matter most...
The science tells us that we risk uncontrollable changes to the way our climate systems work unless we keep global warming below 2º C (compared to pre-industrial levels). Even at this level of warming, climate change poses aserious threat to up to a third of all species on Earth. At higher levels of warming, the risks could escalate rapidly.

To keep temperatures down, we have to cut greenhouse gas emissions drastically – at least 80% by 2050, with a more immediate target of 40% by 2020. To put this another way – we need to wean ourselves off our addiction to fossil fuels and leave at least two-thirds of existing coal, oil and gas reserves in the ground.

If, like us, you want future generations to enjoy the beauties of our natural world, it's vital that we all pull together to tackle climate change today.

You can...