SOSBrazil update: vote delayed for a week - let's keep up pressure
7 March 2012
Hectic activity in Brazil's parliament yesterday meant the final vote on changes to the forest law was postponed until Tuesday 13 March. Pressure from the agribusiness lobby versus thousands of concerned people left politicians wrangling over the details until it got too late to vote. But the threat to the rainforest isn't over yet! Please keep up the protest on twitter and facebook.

Update 13 March: Voting on Brazil's forest law is set to kick off in the Brazilian parliament at 6pm local time today (9pm UK time), if all goes to schedule. And we need your help to block it, to allow time for all the scientific, environmental and social arguments to be properly discussed. Please help us save the Amazon and other important forests from large-scale deforestation. Add your voice to the global movement on Twitter and Facebook by calling on President Dilma Rousseff to intervene and veto damaging changes to the law.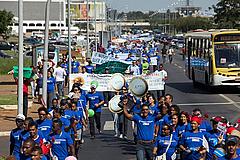 As debates rage in Brazil's parliament, thousands have been demonstrating in front of the National Congress to show they don't want the future of the Amazon and other forests to be dictated by the agricultural lobby.

As part of the protests, a human banner displayed the message 'Veta Dilma' (Veto it Dilma!), asking president Dilma Rousseff to veto the law.

Please help support the movement in Brazil. Join the global action via social media - tweet #SOSBrazil and share with your friends on facebook! Watch this short video…




What will happen now?
Brazil's House of Representatives has three options when it votes on 13 March:
They can approve the bill as it stands today
Or they can approve a new text suggested by representative Paulo Piau, which he hasn't presented yet
Or they can vote again on the original version first approved by the House
As WWF-Brazil CEO Maria Cecília de Brito says, "None of these versions serves Brazil's interests. They are all extremely damaging to the country. By approving any one of the versions, the Congress will be turning its back on society."
That's why we need to block the vote - to allow time for all the scientific, environmental and social arguments to be properly discussed. Even if the parliament votes yes on any of these three options, we need President Dilma Rousseff to veto the damaging changes to the law.
You can…
Go on facebook and
twitter (#SOSBrazil)
and make a noise about Brazil's forests
Find out more about the proposed changes to Brazil's Forest Law
- and get some more ideas for twitter activity
See more images from the protests in Brazil
blog comments powered by

Disqus