WWF Memberships: Frequently Asked Questions
Got a question about our memberships?
Here is a handy list of our most frequently asked questions.
© WWF Intl. / Antonio Amendola / The Stand
What is a WWF-UK membership and what do I get?
There has never been a more compelling time to support WWF's work to save our planet and Membership provides a key opportunity to achieve this. As a member of WWF, you can continue to show your support for safeguarding our planet for future generations. The generous donations of our members drive our vital work as the leading independent conservation organisation and, thanks to their support we can protect some of the world's most vulnerable animals, places and people, tackle climate change and address the unsustainable consumption of precious natural resources.
A membership is a great option for those who have an overall interest in supporting our wider conservation work, rather than a species-specific programme. Included in our membership is your welcome pack of a thank you letter, a welcome booklet to introduce you to the work we're doing and how your kind donation is helping, a notebook and a 'what's next?' postcard.
You will receive a welcome e-mail (7-14 days after joining) and a further two e-mails over the following two months as part of your new member journey. Regular Action magazine updates are sent three times a year around February, June and October.
How do I become a member of WWF-UK?
Thank you so much for your support! You can become a member of WWF by signing up via the website. You can set up a WWF membership either for yourself or as a gift for someone else. You can choose to set up a membership for yourself, or as a gift for someone else. If you're setting it up as a gift and would like the initial (optional) welcome pack to be sent to you so that you can gift it on, make sure to select the 'send welcome pack to my address' option during the 'shipment' section of the checkout process. The future updates will automatically go to your recipient's address unless you let us know you would prefer otherwise.  
Alternatively, you can telephone our Memberships team on 0800 035 5929 (7 days a week - 8am to 10pm) and they'd be happy to help you.
How long will my membership last for?
If you're donating by Direct Debit, your membership will continue every month until you contact us or your bank and ask it to be stopped.
If you're donating by a one-off donation by credit/debit card or cheque, your membership will last for a year. With your final Action magazine, you'll be invited to renew your membership.
What are my payment options?
Direct Debit
If you have a UK bank account, a Direct Debit is a great way to support us; regular gifts by Direct Debit mean charities have a consistent, predictable income, so we can plan and budget better across our conservation projects. Our memberships start at a minimum of £5.00 per month.
Please note, a Direct Debit is an ongoing payment. You can cancel at any time either through your bank or by letting us know on our Contact Us Page.
We are unable to accept Direct Debits from a non-UK bank account – please see our one-off payment option below.
One-off Payment
You can set up a membership with a one-off payment – these start at a minimum of £60.00 and will ensure the membership runs for one year. When your membership is due to come to an end, we'll let you know and ask if you'd like to renew it.
You can set a membership up easily online, or by giving our friendly memberships team a call on 0800 035 5929 (7 days a week - 8am to 10pm).
How quickly will I receive my membership pack?
For deliveries within the UK, your membership pack should arrive within 2-3 working days, though please allow up to 5 working days due to ongoing Royal Mail delays. If you've chosen faster delivery, your pack should arrive within 2 working days if ordered before 12pm. If you live on an island or in the Highlands, your pack may take 1 - 2 days longer to arrive.
For deliveries to Europe, please allow 21 working days.
For international deliveries outside of Europe, please allow 4-6 weeks.
From 1st January 2021, due to several new conditions applied to items sent from the UK to the EU and worldwide, a mandatory phone number is now required for all orders that will be delivered outside of the UK.
Deliveries outside of the UK may be susceptible to customs duty charges which are outside of WWF's control. We ask that you make allowances for any charges that may be incurred as WWF cannot be held responsible. We cannot provide tracking for deliveries outside of the UK.
Please note, if you've purchased a membership as a gift, you can choose for it to be sent directly to you or to the gift recipient. If you choose have the gift sent direct to the recipient, you'll still receive a written confirmation of your purchase. This may arrive several days before the gift recipient's membership pack arrives.
If you haven't received your welcome pack within the suggested timeframe, please contact us on the details on our Contact Us Page and our Supporter Care team will be happy to help.
How is my membership money spent?
70% of our income goes towards on-the-ground conservation programmes and related work to tackle the biggest environmental threats to our world. Of the remainder, 22% is spent on fundraising and 8% on governance and monitoring systems which ensure we remain accountable; this includes administration costs and gifts in kind (e.g. free IT, etc).
How can I renew my membership?
It's fantastic to hear that you'd like to renew your membership! Thank you. You can renew your membership easily online or by contacting us on the details found on our Contact Us Page. If you've received a form through the post with your latest Action magazine, you can complete this and return it to the address provided and we'll do the rest!
How do I update my personal details, bank details, or contact preferences with you?
Thanks for keeping us up to date! Please see our Contact Us Page and if you scroll down a bit, you'll see a list of our web forms. If you fill out the one that's most in line with your query, we'll get it all sorted and get back to you as soon as we can to confirm. Alternatively, you're welcome to give our team a call on 01483 426333 (Monday to Thursday - 8am to 7pm | Fridays - 8am to 5pm | Saturdays - 10am to 4pm).
Please bear in mind that, due to Data Protection reasons, we may need the direct permission of the payer to make certain changes. If you're unsure, just give us a call and we'll advise you.
Can I make a one-off donation to WWF?
You can make a one-off donation to WWF using your credit or debit card on our secure server by visiting Donate page. Alternatively, you can call our Supporter Care team on 01483 426333 (8am - 7pm on Monday to Thursdays, 8am - 5pm on Fridays and 10am - 4pm on Saturdays) and have your card details handy.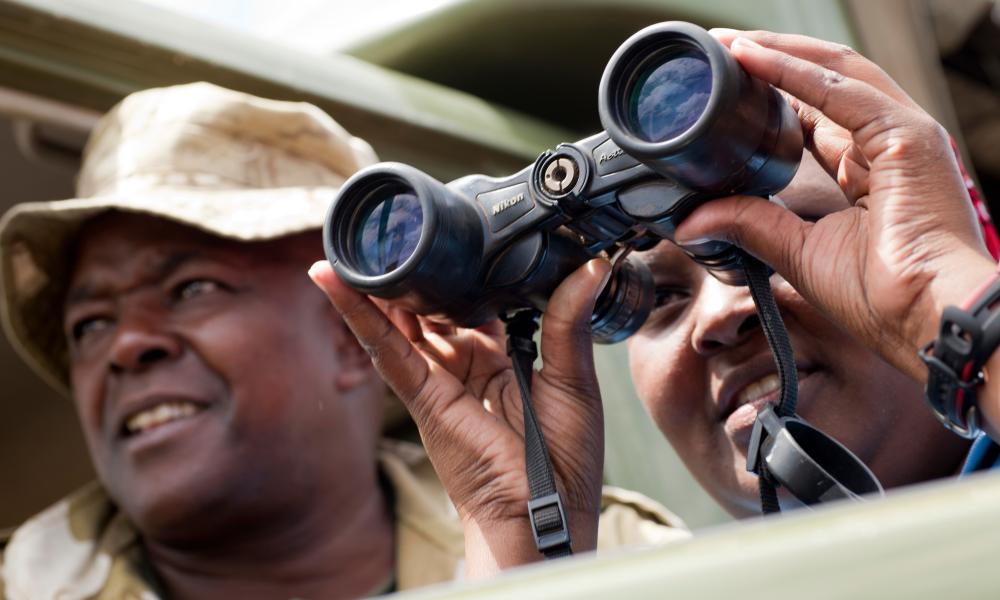 © WWF-UK / Greg ARMFIELD
Can't find the answer you're looking for?
We're here to help.
If you're unable to find the answer to your question within our FAQs, please get in contact with us today.
Alternatively, please see our full list of FAQs.