Spanish chickpea & almond stew
Recipe from Eat Happy by Melissa Hemsley (Ebury Press, £20)
Using store cupboard staples and spinach from the freezer, this Seville-inspired stew comes together in under 20 minutes and is a hit with everyone. You could swap the spinach for other greens, such as chopped chard, or add extra bits and bobs, such as a few tablespoons of capers, olives or chopped sun-dried tomatoes. I love this as a stew-like soup in a bowl, but you could make it thicker and serve with a side of quinoa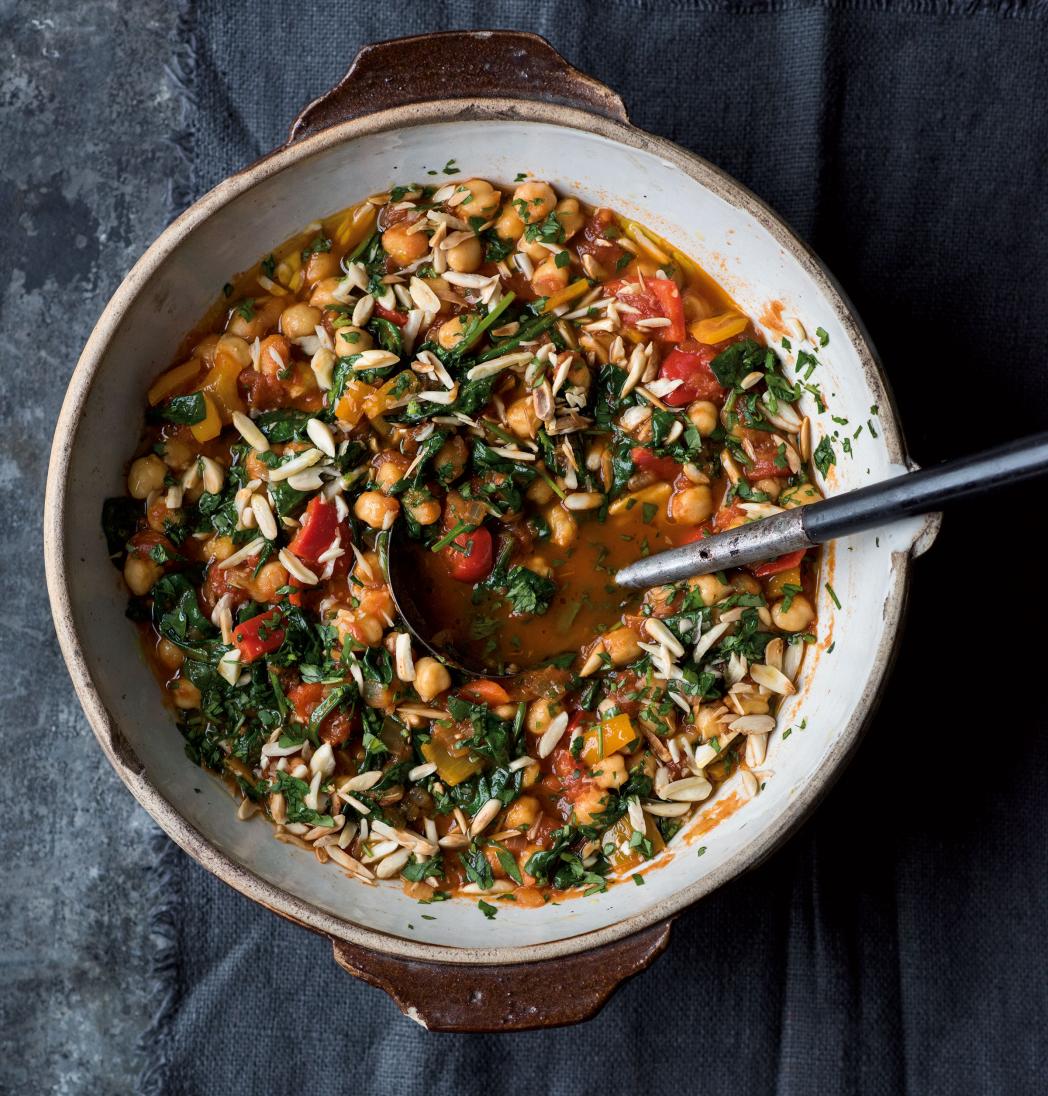 © Issy Croker
Ingredients
3 tablespoons chopped or flaked almonds
1½  tablespoons butter or ghee
1 large onion, finely chopped
1 large red or orange pepper, deseeded and chopped
3 garlic cloves, finely chopped
1 large handful of fresh
parsley, stalks finely chopped and leaves roughly chopped
1 tablespoon tomato purée
2 x 400g tins of chopped tomatoes
2 x 400g tins of chickpeas, drained and rinsed
100ml stock/bone broth
(p. 278) or water (optional)
250g spinach
1 tablespoon lemon juice Sea salt and black pepper Extra-virgin olive oil, to serve
2 teaspoons ground cumin
2 teaspoons smoked paprika
¼ teaspoon cayenne pepper
Method
1. In a large, deep frying pan, toast the  almonds over  a medium heat for just  under a minute until golden, then set aside. Melt the  butter in the  hot  pan, add  the  onion and pepper and fry for 6 minutes until starting to soften.
2. Add the  garlic, spices and parsley stalks and fry for 1 minute, stirring constantly to prevent them from burning, then add  the tomato purée and cook for another 30 seconds.
3. Tip the  tinned tomatoes into the  pan, turn up the  heat to a medium simmer and cook for 15 minutes, uncovered, to thicken and reduce. Add the  chickpeas and cook for another 3 minutes with a lid on. If you want the  stew to be more soup-like, add  the  stock.
4. Turn up the  heat, drop in the  spinach and cook for 1 minute, covered with the  lid, then add  the  lemon juice  and season with salt and pepper.
5. Serve each  bowl  with a good drizzle of olive oil and with the parsley leaves and toasted almonds scattered over.