Green Veg Crumble
A creamy, cheesy, filling dinner packed with green vegetables, covered in a lighter-than-usual white sauce, and topped with a wholegrain crumble. Nutrient dense, rich, filling and balanced. Full of green vegetables you don't even notice yourself eating!
Recipe and image by Claire Wright (addsomeveg.com) for Veg Power (vegpower.org.uk)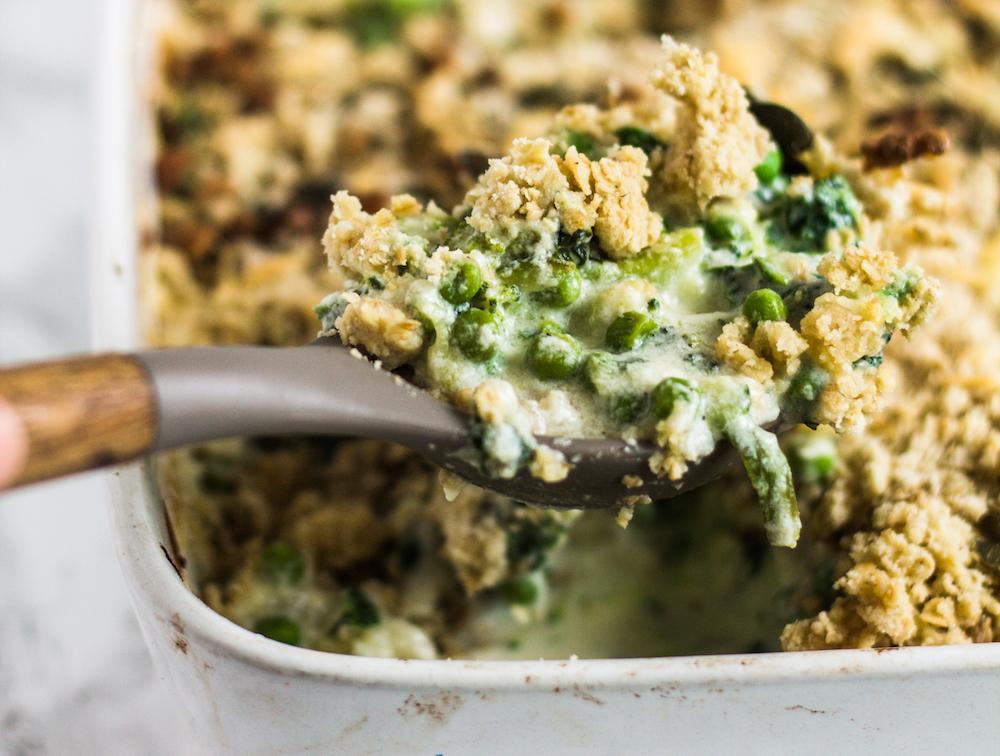 © Claire Wright
Ingredients
350g frozen broccoli florets (or 1 head fresh - cauliflower works great here, too, as does a mix of the two)
250g frozen chopped spinach or frozen whole baby leaf spinach
225g frozen peas
1 large courgette, grated
For the white sauce:
3 tablespoons unsalted butter
3 tablespoons plain flour
400ml milk
400ml stock (or more milk)
1/2 teaspoon mustard powder (or 1 teaspoon mustard)
small pinch nutmeg or allspice (about 1/4 teaspoon)
salt & pepper, to taste
large handful of grated cheese (about 50g)
For the crumble topping:
100g wholemeal flour
200g oats
pinch sea salt (about 1/4 teaspoon)
110g unsalted butter, room temperature and cubed
handful of chopped nuts (pecans, walnuts, hazelnuts or almonds all work well)
handful of seeds (sunflower and pumpkin work really well)
a little more grated cheese to top, optional
Method
Preheat oven to 190C/170C fan/gas 5.
Steam the frozen vegetables in a steamer or microwave according to packet instructions. Drain the vegetables and squeeze any excess water out of the spinach.
Pour the cooked vegetables and grated courgette into a large roasting or casserole dish and set aside.
Next, make the white sauce... 
Melt the butter in a large saucepan, whisk in the flour and allow to cook for a minute, then slowly drizzle in the milk, little by little, whisking constantly.
Whisk in the stock, mustard, nutmeg or allspice and salt & pepper. Bring to the boil and allow to simmer for a few minutes, whisking constantly, until thick.
Take off the heat and stir through the grated cheese, then pour the sauce into the dish with the green vegetables and mix well.
Finally, make the crumble...
Pour the flour, oats and salt into a food processor and pulse for 30 seconds or so. Add in the cubed butter and pulse for another 30 seconds until combined with the flour but still leaving little chunks.
Top the creamy veg mixture with the crumble, then scatter over some chopped nuts and seeds, and a little extra grated cheese, if using.
Bake for 25-30 minutes, until the crumble topping is golden and the cheesy filling is bubbling up around it. Serve on its own or with a green salad or fresh chopped tomatoes drizzled with extra virgin olive oil and a pinch of salt.