100 Miles in March
Get sponsored to walk or run 100 Miles in March in aid of WWF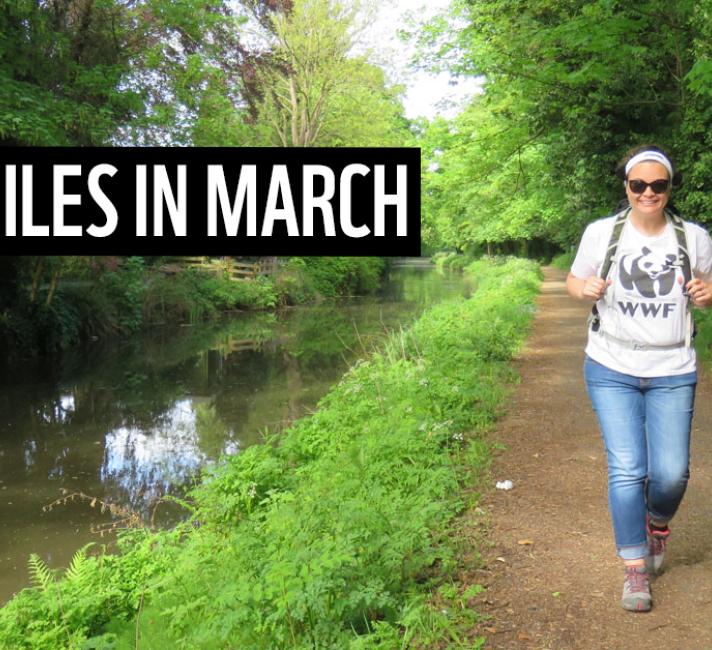 © WWF / Louise Hall
We're very excited to launch our brand-new event '100 Miles in March' which is hosted on Facebook. The aim of the challenge is to get sponsored for walking or running 100 miles throughout the month of March. Below are some frequently asked questions.  
This sounds great, how do I sign up?
Head to our Facebook group and click 'Join Group'. Then, you'll see links to register for the event and create your Facebook fundraiser (set the end date to 11th April).
Please note registration for this challenge with a free t-shirt is now closed but t-shirts are available from our online shop.
How do I collect donations?
Collect donations through your Facebook fundraiser – we've got some great images for your fundraiser cover photo in the group too. There is no set donation target for this challenge - we're asking you to raise as much as you can.
What's a good fundraising target?
Facebook makes it really easy for people to donate, but you have to be a Facebook user. If they want to give you the money directly, you can donate to your own fundraiser on their behalf. WWF receives 100% of all the donations you raise through Facebook.
I'm worried I won't get any donations
Here's our top fundraising tip. Keep your friends and family updated with your challenge - include photos of your miles on your Facebook page and fundraiser and they'll donate once they see what you're doing. It's great to share what's motivated you to take on the challenge too.
How do we track our miles?
There're some good free apps are such as Strava or RunKeeper. But the most important thing is that you post updates on your Facebook fundraiser, so your friends and family see how hard you're pushing yourself and how many miles you're getting done! We've also got a digital mile tracker available in the Facebook group.
What happens if I don't finish my miles?
Don't worry too much about not finishing your 100 miles. The most important thing is taking part and fundraising. Remember, we're all here to support you through your miles. You've got this!
Why is there a Facebook group?
The Facebook group is a fantastic way to connect with other people doing the challenge. You can swap fundraising or training tips and share photos of your challenge. Plus, everyone in the group will help support you while you're doing your miles.
I've not seen this way of fundraising before – why are you doing it like this?
Hosting a fundraising challenge in aid of WWF via Facebook is a new and exciting way to get people interested in our mission. We're overwhelmed by the enthusiastic response so far and look forward to cheering you all on!