100 Miles in March
This event is now closed for 2022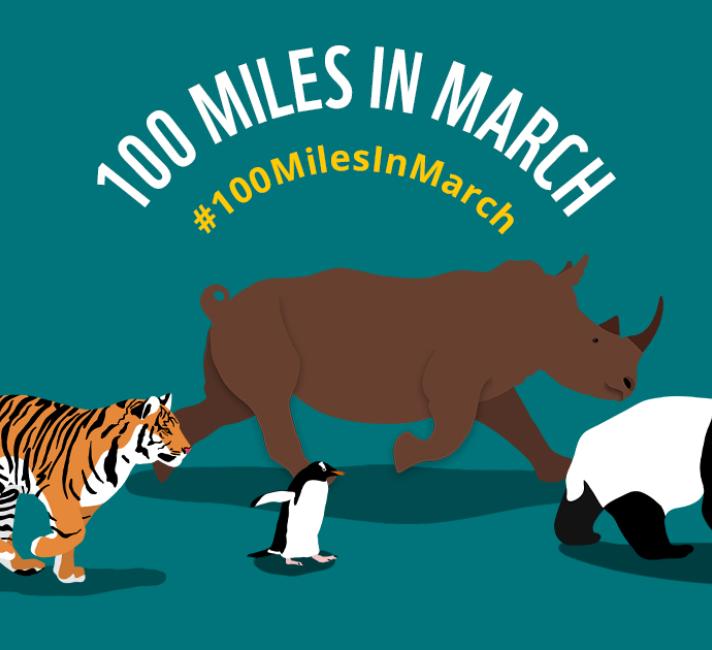 © WWF-UK
Get moving with WWF UK's 100 Miles in March challenge! Walk, run, cycle, swim, dance - you choose and get sponsored for completing your challenge. Below are some frequently asked questions.
This sounds great, how do I sign up?
Registration is now closed.
How do I collect donations?
I'm worried I won't get any donations
Remember, you've got plenty of time to collect donations, so try not to worry. Here're some of our top fundraising tips:
Donate to your own fundraiser – it shows your friends and family that you're taking your challenge seriously!
See if your employer has a 'matched donations' policy – you could potentially double the amount your raise!
Keep your friends and family updated with your challenge and they'll donate once they see what you're doing.
Personalise your fundraiser blurb & photo - this makes a huge difference! Tell people what's motivated you to take on the challenge.
We've also got our 8 top fundraising tips saved as images in the Facebook group.
How do we track our miles? Do I need to provide evidence that I've done my miles?
There're some good free apps are such as Strava, Map My Run or RunKeeper. No need to send us proof that you've completed your miles, but don't forget to keep friends and family updated so they can see how hard you're pushing yourself and how many miles you're getting done!
What if I don't complete the challenge?
Don't worry too much about not finishing the challenge at this stage. The most important thing is taking part and fundraising. Remember, we're all here to support you! You've got this!
Why is there a Facebook group?
The Facebook group is a fantastic way to connect with other people doing the challenge. You can swap fundraising or training tips and share photos of your challenge. Plus, everyone in the group will support you while you're doing your miles.
Who is Stewart Carpenter on the Facebook group?
Stewart Carpenter is the Facebook profile for a few members of WWF staff. We created the profile for this challenge, so we can answer your questions as quickly as possible.
I have to self-isolate due to testing positive/ being notified by the NHS App. I'm so sad!
We're sorry to hear this and hope you're feeling OK. We totally understand if you need to postpone your challenge and it is no problem to do this.
If you're feeling well, perhaps you could try some fun activities to get those steps in from home. Maybe a YouTube step class, bursts of jogging on the spot throughout the day or dancing to your favourite tunes in your living room?! We hope you're feeling OK and thank you for your support during the challenge.
I've still got questions about the challenge
Our friendly team are here to help! Get in touch and we'll be happy to help you.