In 2016, emergency veterinarian Rob Pope decided to set himself a challenge: to find out whether Forrest Gump's run really was achievable. Like Forrest, he started his challenge on September 15th, and became the first person to run across the United States of America four times in one year. After running over 15000 miles, on Sunday 29th April he completed his fifth crossing of the states, concluding his challenge.
Our very own Forrest Gump
Inspired by the all-time favourite American movie , Rob commenced his route in Gump's home state of Alabama, stopping at iconic locations like the Richard V Woods Memorial Bridge to recreate scenes from the film and bring Forrest Gump to life. To date he has run an incredible 13,293 miles, the equivalent distance of roughly 507 marathons. As he channels Forrest Gump with his ever-growing beard, he plans to complete his fifth crossing of the states between January and March 2018.
"I want to make a difference. I want to make people happy, whether it's brightening their day with a funny story about someone I may meet in a desolate highway diner, through to pushing myself, or promoting my two charities. WWF is working to create a world where people and wildlife can thrive together while Peace Direct seek to resolve conflict by education, meditation and empowerment of women in areas of need worldwide."
Having fundraised a phenomenal £20,000 so far, the keen environmentalist has set himself the target of fundraising £1 million and dividing the money between two charities close to his heart, WWF and Peace Direct.
Rob has supported WWF since early childhood, inspired by his late mother. It was this that prompted his career choice as a veterinarian, and made him more aware of the world around him. His captivation with Gump began when he looked more into his personality: a good judge of character, kind and gentle, free of racial bias and prejudice. Like Forrest, Rob has had to overcome many obstacles to complete his challenge.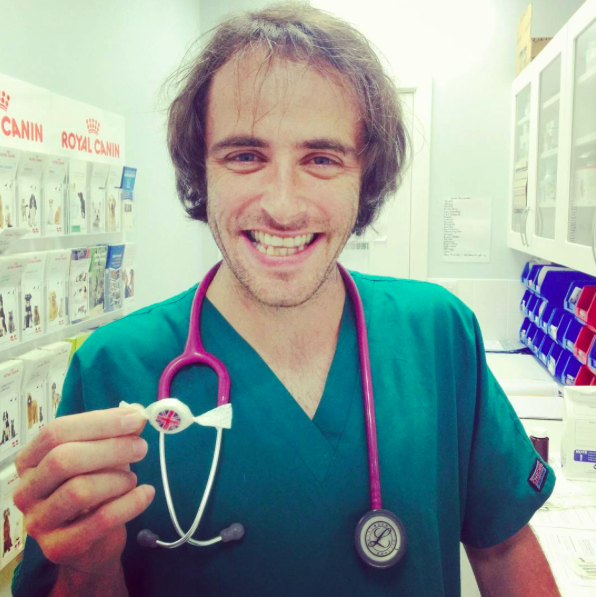 "It's a fictional story of course, but Forrest's character had a difficult start in life and overcame many obstacles. Forrest, however, saw no barriers, tried his best and accepted everyone he met. Isn't that a wonderful concept?"
When Rob began his challenge in the US, he stuck to a daily routine which entailed waking up at 6:00am and running 40 – 45 miles a day. During the course of the day Rob looked for somewhere to stay for the night, couch surfing in the colder months – which he said was a great way to meet people as it got lonely on the roads. Whilst in Nashville Tennessee, Rob met a brewery owner who reached out to breweries across the state, ensuring he had other places to sleep further along in his journey.
Originally, Rob's girlfriend Nadine was supporting him whilst driving a camper van named Jenny (after Forrest's girlfriend). When Nadine fell pregnant, Rob continued running solo, pushing along a pram which carried his belongings.
Weeks after becoming a father, Rob accomplished three marathons on three consecutive Sundays, starting with Manchester Marathon (2 hours, 55 minutes), followed by Brighton Marathon (2 hours 52 minutes).
For Rob's third marathon he channelled Forrest Gump not only with his evolved beard, but with a full fancy dress costume. Completing the London Marathon in an incredible 2 hours, 36 minutes and 28 seconds, he broke the Guinness World Record for fastest marathon in a film character costume.
Days after completing London Marathon Rob returned to America and finished the final leg of his run in Utah at the iconic Forrest Gump Point where he rallied people together to join him to run the final ½ mile. After finishing his challenge Rob proposed to his long-term partner Nadine on the finish line! The perfect ending to his epic journey.