Spinach & Chickpea Falafel Wrap with Beetroot
A healthy and mouthwatering wrap, perfect for lunch or dinner.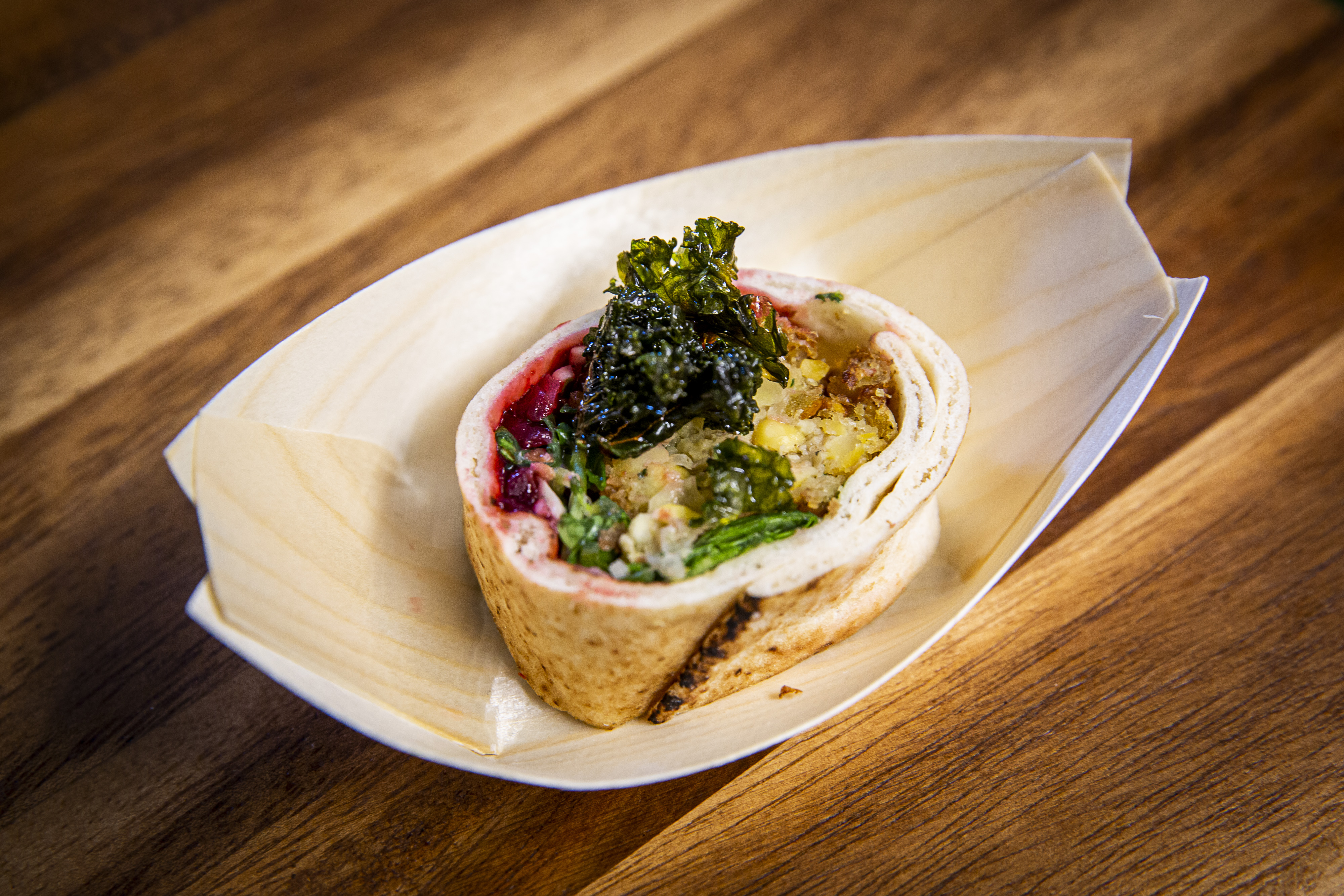 © Sodexo
Ingredients
8 large or 12 small spinach falafel homemade or shop bought
For the Kale Slaw Salad:
150g Fresh Curly Kale
100g White Cabbage
100g Beetroot hummus
60g Red Onions
60g Carrot
50g Baby spinach leaves
50g Watercress
1/2tsp Creamed Horseradish
4 each Khobez bread or any flat bread
For the dressing:
5ml Apple Cider Vinegar
Crushed Garlic Clove
1tsp Caster Sugar
80ml Soy Yoghurt
Pinch Chilli Flakes
Salt and Pepper
Method
Garnish - Oven baked kale crisps
Take a handful of kale. Remove stalks, wash and remove excess water.
Pick into small pieces and massage in a tablespoon of rapeseed oil,  a twist of sea salt and a pinch of chilli flakes.
Place on a baking tray and pop into a preheated oven 120C for 15-20 mins until crisp. Watch carefully as they burn easily. Remove and set aside. 
Basic Prep
Wash the kale. Remove and slice the stalks, shred the green leaves, spinach and cabbage.
Peel and finely slice the carrot and red onion
Pick, wash and roughly chop the watercress
Mix the hummus and horseradish together
Mix all dressing ingredients, whisking to combine
Method
Cook or reheat the Falafel and set to one side.
Combine the kaleslaw ingredients. Add dressing and mix well. Refrigerate for at least an hour or overnight.
To make a wrap, lightly warm the flatbread, add kale slaw, add falafel, top with beetroot hummus, krispy kale and fold tightly. Cut in half and serve.