Request a smart meter
Smart meters make Britain's energy greener. By helping you keep track of the energy you're using via a near-real-time 'traffic light' system on a handheld device, you'll be able to see for the first time how much you are spending on energy in pounds and pence and bring an end to estimated bills.
© Shutterstock / Andrei Shumskiy / WWF
Everyone in Britain will be offered a smart meter by their energy supplier as part of a national upgrade to our energy system, at no additional cost. The sooner you get yours, the sooner you can bring down your bills and your carbon footprint.
With your smart meter, you'll also get an easy-to-understand portable display that shows you exactly what you're using on both gas and electricity in near real time. Some will also show you how much carbon you're using as well as how much money you're spending. This will make it easier to see where you're using a lot of energy, perhaps without even realising it. Eight in ten people with smart meters are already taking steps to use less energy.
Smart meters also pave the way for a more energy efficient future. They are essential for a smart energy grid which can integrate renewable energy into the mix, as well as enabling cheaper tariffs at off-peak times. This means we will pay less to mow the lawn or run the washing machine when electricity is not in high demand. It will also mean less pressure on the grid at busier times when we're all making dinner, or putting on the kettle whilst the adverts are on TV – and a lower carbon footprint for the whole country.
Why is WWF backing smart meters?
"Our world is under threat like never before. Globally, we're all using the planet's resources faster than nature can restore itself: we're destroying forests, choking the oceans with plastic, decimating wildlife population sizes and causing devastating changes to the climate. We're using our planet's natural resources faster than they can be restored, and it's important that we all act now – on an individual, national and global level – to slash carbon emissions and stop devastating climate change.
Today, the UK's emissions are more than 40% lower than in 1990, in part because of a rise in renewables. But there's still a long way to go to get to the government's target of net zero by 2050. The first step is to know what you're emitting and what you can do to reduce it.
Smart meters are part of the solution to decarbonising our electricity grid, and a step towards making Britain's energy greener. The more that the grid can flex and manage supply and demand for power, the better able they are to maximise the use of renewable and other low-carbon generation to power the UK. If all homes are connected to smart meters, then what we can do on a local level in our own homes with smart technology – adjusting our power use to the cheapest or cleanest generating times – the grid can do on a national level. It's just one of the small changes we can each make – that our power companies do for us – that will help the overall system."
How do smart meters play their part?
"Smart meters help us to make changes to our power use – at a national, regional and domestic level – in ways that help cut emissions, which we need to do rapidly and deeply if we are to tackle the climate emergency.
Depending how we as consumers choose to engage with the smart meter, we can use it to help manage our own use of power too, both to save money and to switch use to times when it has lowest impact, such as when renewables are generating. It can also save us from having to send meter readings to our energy company and protects us from the energy company charging for estimated use rather than actual use."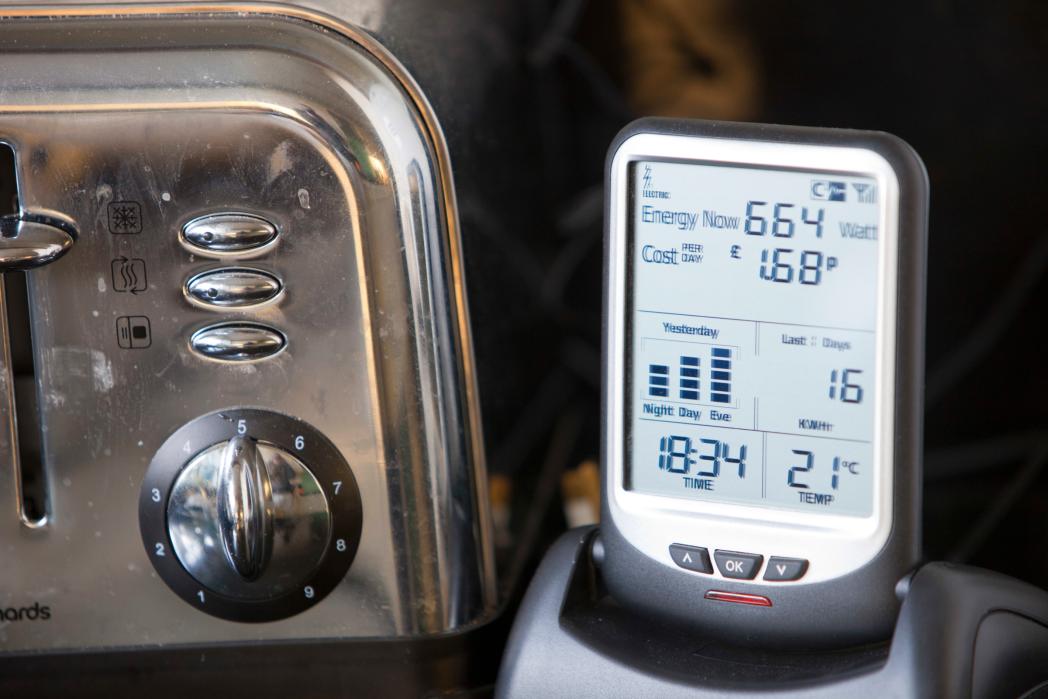 © Global Warming Images / WWF
How do you think readers can do their bit to help?
"The demands made by each and every one of us are far too much for our planet. Adopting simple, sustainable lifestyle habits can help to make a huge difference.
We can switch our energy provider and/or our tariff to a renewable one. We can make our homes more energy efficient – cutting emissions and energy bills. We can change how we travel, choosing to walk, cycle or use public transport where possible instead of driving; and fly less – choosing to go on holiday via trains instead of aeroplanes (which is much more relaxing too!). We can cut down on the amount of meat and dairy that we eat and make a conscious effort to reduce our food waste – a huge source of emissions globally. We can wear clothes for longer – both before we wash them, and before we buy new clothes! We can buy less in general and consider whether we need to be buying as much new stuff as we do; when we upgrade phones, buy new TVs and replace furniture, all of these have carbon footprints associated with their manufacture and transport."
What needs to be done at government level?
"Political leaders can see that whatever else divides us in the UK, we are united about the urgent need for action on climate. For more significant commitments, business and political leaders need to step up. We all want a healthy and rich environment so, on our behalf, they have to ensure that the products they sell us are truly sustainable and politicians must be bold and courageous to deliver serious commitments that protect and restore our forests, rivers and oceans; and to limit the impact of climate change. In doing so, they must create a new, safer, fairer future for nature and people.
We know that investment in renewables is an investment in jobs and growth, often for the areas that most need that investment. To secure the future of our planet, we need all leaders to raise their ambition. We must take bold and urgent action, backed by solid investment, if we are to fight for our world."
Contact your energy supplier today to request your smart meter or find out more at smartenergyGB.org