Anheuser-Busch InBev
Our freshwater systems are under threat from over-exploitation, water pollution, habitat degradation, species invasion and flow modification, and we must take action now to secure and protect them.
© Gareth Bentley/WWF Zambia
The actions required are not something that anyone can do alone, they must be collective. That's why WWF and Anheuser-Busch InBev (AB InBev), have joined forces to address critical water challenges and drive measurable impact in high-risk watersheds.  
Our collaboration has a long history. As early as 2009 we began working with SABMiller, pioneers in the practice of 'water footprinting', measuring the amount of water used in making beer.  Together we explored ways to mitigate water risks facing businesses, communities and ecosystems through both direct supply chain and collective action.  In 2018, following the combination of AB InBev and SABMiller, we entered into a new phase of the partnership to work with AB InBev to tackle water security in five high-risk landscapes.  
AB InBev's partnership with us is part of its broader water stewardship efforts, which include driving substantial improvements in internal water use efficiency across its operations, working in the wider landscapes where it is based to restore and protect rivers and water resources, and collaborating with peer companies amplify impact and advocate for wider change. 
WHAT WE'RE DOING  
WWF and AB InBev are working together in Uganda, Mozambique, Zambia, Bolivia and South Africa—locations where AB InBev has operations and which are priorities for WWF from a conservation perspective—to measurably improve water availability, water quality and freshwater biodiversity. We are catalysing key decision makers to recognise the value of water and improve water governance to enable solutions to address water availability and quality challenges. The partnership is also working to mobilise investment for sustainable landscape management and further implement solutions to ensure that natural resources in these locations are managed sustainably and equitably.  
Specifically, our collaborative efforts in these locations include: 
Developing blended finance approaches to encourage sustainable private sector investment at the landscape scale. For example, in the Kafue Flats wetlands in Zambia, working with the Kafue Flats Joint Action Group (KFJAG) the partnership will deliver financing projects to address the current pressures on the landscape which include over-exploitation and water pollution.  
Working with communities to develop new enterprises and encourage sustainable farming practices to reduce pollution and over-exploitation along the River Rwizi in Uganda, securing this valuable water source for people and nature.   
Working with communities, businesses and farmers in Bolivia to co-create basin management plans and establishing multi-stakeholder platforms in the Taquiña Basin and Santa Cruz City to implement collective actions in the river basins, as well implementing water stewardship education programs within community schools.  
Developing plans to clear invasive species in the Incomati and Umbeluzi River basins in Mozambique, and along with strengthening water governance in the Greater Maputo Region.  
Working in the Table Mountain Water Source Area to understand the impact of bore holes on groundwater, and engaging Cape Town organisations and residents, raising awareness of water over-exploitation issues through the development of Table Mountain Water Source Partnership. 
In addition, WWF and AB InBev are engaging in collaborative thought leadership work. Breaking new ground, we are carrying out research and analysis to understand the effectiveness of Nature Based Solutions, and working to identify hotspots in Africa where they can be scaled up to mitigate climate-water risks, as well as the policy and investment levers needed to make this happen on the ground. Previous thought leadership publications have included Climate Change & Water and the Water Situational Analysis of the Lower Kafue Basin.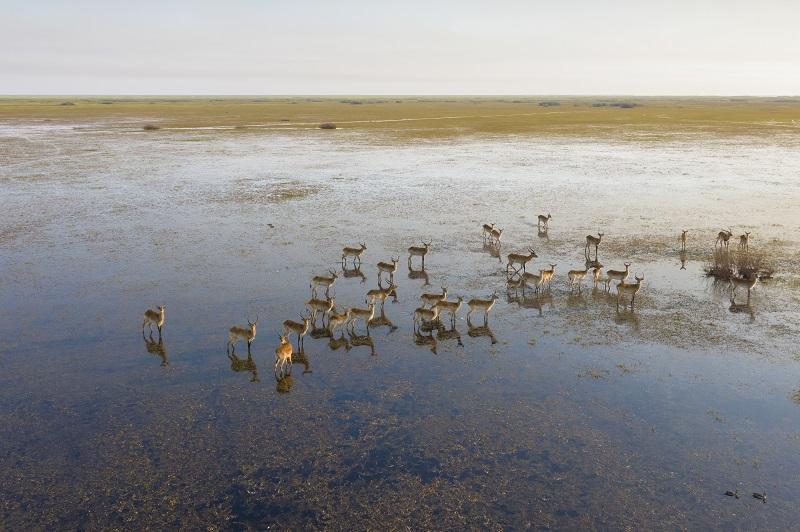 © Patrick Bentley/WWF Zambia
WHY WE'RE DOING IT  
This work is vital to our efforts at WWF to improve water security for people, nature and the economy, and to AB InBev's work towards achieving its 2025 sustainability goals which reflect the company's commitment to build a company to last for the next 100+ years. Our partnership is also contributing to the UN's Sustainable Development Goals, specifically goals 2, 6 and 17.  
The partnership has proven very valuable to both of our organisations: 
 "AB InBev has been at the forefront of water stewardship over the past decade, assessing water risks to their operations, setting targets and engaging beyond their factory fence: our new partnership is driving even greater collective action that will benefit economies and ecosystems," said Stuart Orr, WWF Lead Freshwater Practice.   
 Andre Fourie, Global Director: Water Sustainability, "Our ultimate goal is to ensure water availability and quality for both our breweries and our communities, because when our communities thrive our business thrives. But we know we cannot do this work alone, which is why our partnership with WWF is invaluable to us. We're proud to work with an organization that shares our belief that measurable impact at scale is the next frontier in water stewardship."