WWF-UK General information: Frequently asked questions
Learn more about our organisation and the people who help us move forward and help in the fight to save our world.
© naturepl.com / Edwin Giesbers / WWF
When was WWF-UK founded and by whom?
WWF-UK was founded on 23 November 1961 by a group of distinguished scientists, conservationists and businessmen that included Sir Peter Scott and Sir Julian Huxley.
What is WWF-UK's registered charity number?
WWF-UK is a charity registered in England (charity number: 1081247) and in Scotland (charity number SCO39593) and a company limited by guarantee registered in England (number 4016725).
There are WWF offices in many countries across the world, making up the WWF network. In the UK, WWF-UKs headquarters are in Woking, Surrey. 
WWF-UK  
The Living Planet Centre  
Rufford House  
Brewery Road  
Woking  
Surrey  
GU21 4LL
You can find out more about visiting us at the Living Planet Centre. 
WWF also has offices in Scotland and Wales, based in Edinburgh and Cardiff, respectively:
WWF Scotland  
The Tun  
4 Jackson's Entry  
Holyrood Road  
Edinburgh  
EH8 8PJ
WWF Cymru  
Churchill House  
17 Churchill Way  
Cardiff  
CF10 2HH
What do the initials WWF stand for?
When WWF was first set up in 1961, WWF stood for World Wildlife Fund.
In 1986 we changed this to World Wide Fund for Nature to emphasise the broad nature of WWF's conservation work, which includes not only species, but also habitats and the reversal of environmental degradation.
However, since July 2000, WWF has been known simply by its initials.
Who is WWF-UK's President?
As of 8th September 2011, WWF-UK's president is HRH The Prince of Wales.
 
WWF is a registered charity in England & Wales (1081247) and in Scotland (SCO39593).  We are regulated by the Charity Commission and Office of the Scottish Charity Regulator (OSCR) who register and regulate charities.  The Charity Commission ensure trustees comply with their legal obligations in managing charities and identify and investigate abuse and mismanagement in charities.
For more information about how charities are regulated in the UK visit the Charity Commission & OSCR websites.
WWF is also registered with The Fundraising Regulator which was established in 2016. It is responsible for setting and maintaining standards for charitable fundraising throughout the UK through the Code of Fundraising Practice and it is responsible for fundraising complaints in England, Wales and Northern Ireland.
WWF-UK has a Board of Trustees which is legally responsible for all the activities that the organisation undertakes.
The Trustees are all unpaid volunteers who are responsible for ensuring that WWF-UK abides by its charitable aims; works within the law, delivers its mission and monitors and evaluates effectively.
Find out more about how WWF-UK is governed.
I have seen some wildlife items for sale that I think are illegal. What should I do?
You can fill in our Eyes & Ears form to report a suspected illegal wildlife trade.
How do I organise a talk about WWF for my organisation or event?
WWF don't have employees and guest speakers available to attend events. We receive lots of requests from all over the UK and this presents challenges in travelling, thinking of our carbon footprint and the costs incurred.
So as not to disappoint those living further afield, we chose not to offer this service but look for other ways we can try to help you.
You can find lots of information about our work available throughout our website.
We also now have our amazing new headquarters, the Living Planet Centre, based in Woking, Surrey.  We are easily accessible by public transport and are just a short train journey from the capital.
What can I do to help the environment?
You can find out more about how you can help the environment by visiting our Get Involved section to discover what you can do to make your everyday life more sustainable and make the world a healthier place for future generations.
Can I get involved with WWF if I am under 18?
Absolutely, we want you to be involved with WWF no matter your age and there are lots of ways you can help. We have activities specifically for younger people such as our Go Wild page, and others which you can find on our Get Involved section.
Does WWF work on Animal welfare issues?
WWF works to conserve endangered species, protect endangered spaces, and address global threats to the planet such as climate change. Much of our work is for the protection of endangered animals in the wild – including the tiger, the rhino and great apes - but we do not have the experience or expertise to deal with issues relating to animals in captivity.
Whilst animal welfare is outside of our expertise and our legally-binding constitution, we are constantly striving to build a world in which humans live in harmony with nature.
You may also wish to contact these other organisations, whose work and expertise we value greatly, for information and advice on animal welfare issues:
RSPCA (Royal Society for the Prevention of Cruelty to Animals)
Wilberforce Way
Southwater
Horsham
West Sussex
RH12 1HG
Website: http://www.rspca.org.uk
SSPCA (Scottish Society for the Prevention of Cruelty to Animals)
Kingseat Road
Halbeath
Dunfermline
Fife
KY11 8RY
Website: http://www.scottishspca.org
IFAW (International Fund for Animal Welfare)
87-90 Albert Embankment
London
SE1 7UD
Website: http://www.ifaw.org/united-kingdom
WAP (World Animal Protection)
5th Floor
22 Grays Inn Road
London
WC1X 8HB
Website: http://www.worldanimalprotection.org.uk
If you've seen a captive animal, while on holiday, that appears to be in distress, we suggest you contact Traveller's Animal Alert, part of the Born Free Foundation, who will be able to help you further:
Born Free Foundation
Broadlands Business Campus
Langhurstwood Road
Horsham
West Sussex
RH12 4QP
Website: http://www.bornfree.org.uk
How does WWF-UK work with the corporate sector?
We believe passionately that in order to address the huge challenge of moving towards a global, sustainable future, we must work with companies to help them lessen their impact and embed sustainability at the heart of their business.
It is simply not enough to only work with companies that are already doing everything right. We must be willing to form challenging and constructive relationships with the companies that are able to drive real change in global markets and our priority eco-regions.
What is WWF-UK's Investment Policy?
WWF-UK's investment policy is to maintain the real value of our investments and to maximise income by way of a diversified portfolio consistent with the trustees' legal powers and duties. The policy promotes the principles of sustainability and socially responsible investment and excludes investments in organisations engaged in activities that conflict with or detract from our mission and objectives. The portfolio is screened to ensure that it complies with the investment policy.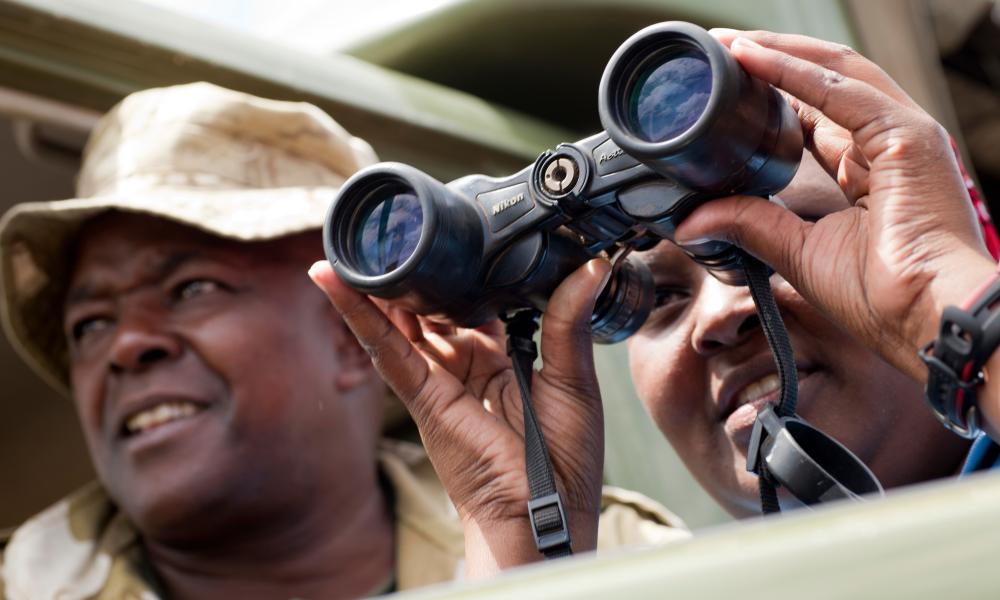 © WWF-UK / Greg ARMFIELD
Can't find the answer you're looking for?
We're here to help.
If you're unable to find the answer to your question within our FAQs, please get in contact with us today.
Alternatively, please see our full list of FAQs.