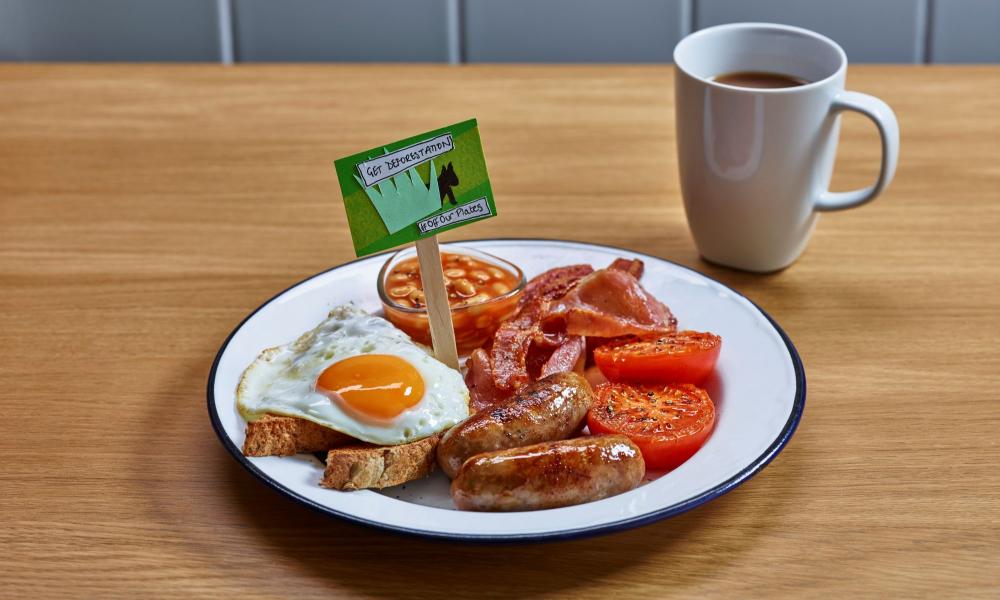 © Stephen Conroy / WWF-UK
Why make a 'plate placard'
Forests like the Amazon are burning – killing wildlife and making the climate crisis worse. But you probably don't realise the food we eat could be causing this. Our Sunday roasts or the chocolate we eat as a treat could be directly linked to the destruction of our forests and death of our wildlife.  
This is unacceptable. If we want to fight for our forests, we need to fix our food system, for good.
There is an answer. The Environment Bill going through parliament gives our Government the chance to bring in new laws that will end this. If we speak up together, we can tell them loud and clear to get deforestation #OffOurPlates.
That's where you come in.
Your lunch break could change the law. We need your help to take the protest about our plates directly to our decision makers. By creating a 'plate placard', you can send a sign to our Government that you're not prepared to put up with this.
Use your creativity to come up with a placard to show you don't want your food to cause our forests to burn. It could be anything – you're the artist. Then share it with the world to show you care, before sending it to us so we can take it to our MPs. Let's show them it's crunch time.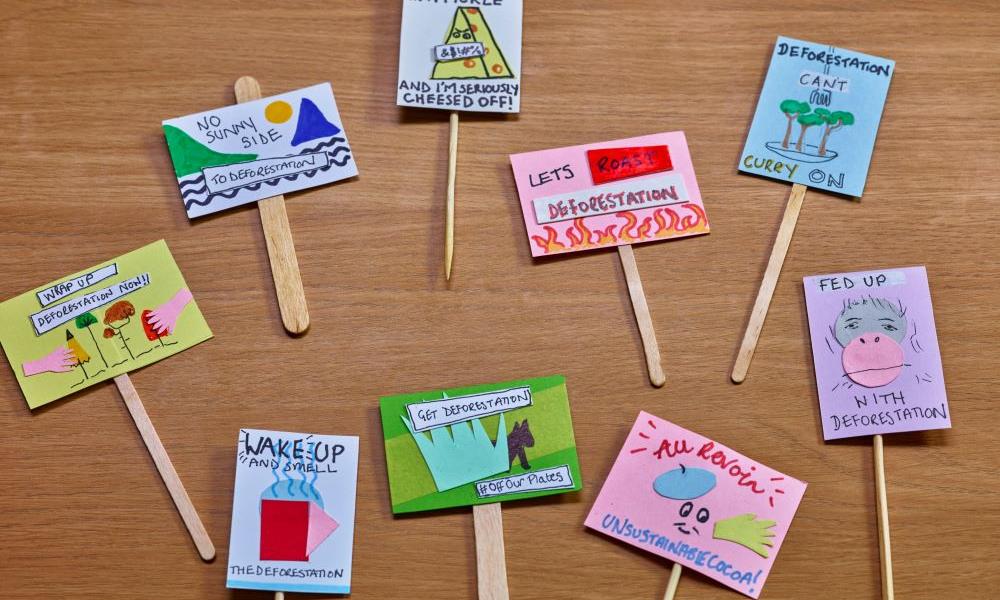 © Stephen Conroy / WWF-UK
How to make your placard
Step By Step Process 
Toolkit 
You'll need some paper or card (recycle materials you have around the home – an old cereal box perhaps), a stick (toothpick would do nicely), glue, ruler and scissors.  But most importantly, you'll need an idea.  
Idea 
Think about what you'll be eating. If it's meat or dairy, the supply chain may well have included soy. If it's vegan it may contain unsustainable palm oil. Then conjure up your best food jokes and puns. Check out #OffOurPlates for inspiration! 
Just remember, you don't want any of your food to cause deforestation.  
Craft 
Then get to work. Write your message on a piece of card. You could leave it like that or add some visuals to make it more interesting.  Next fix your stick to the back.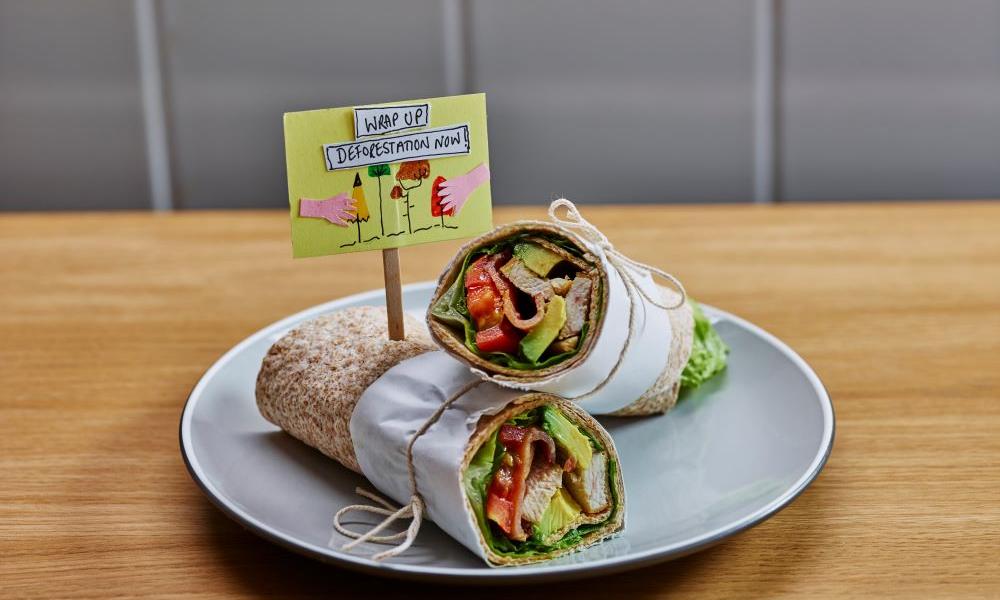 © Stephen Conroy / WWF-UK
What to do with your placard
Voila, you have your plate placard! Remember, we need you to share this with absolutely everyone. Us @wwf_uk, your local MP, your family, friends, your childhood best friend, your neighbor's dog, anyone and everyone. Make sure you use #OffOurPlates. 
Once you've shared, we want you to send us your physical placards! We want to collect thousands of signs that we can take to our decision makers in person to show how many people are demanding an end to deforestation in our food.  
Send us your placards in the post at:
Plate Placards
WWF UK
The Living Planet Centre
Rufford House
Brewery Road
Woking, GU21 4LL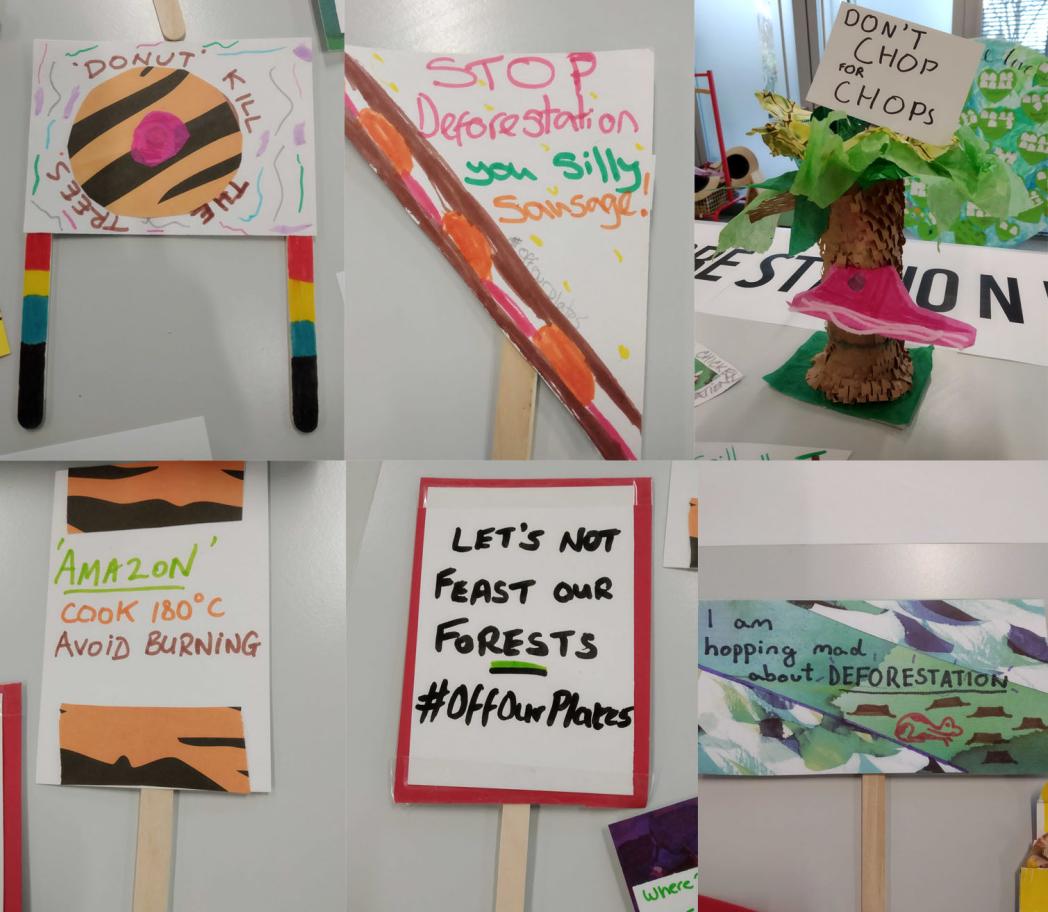 © WWF-UK
How food contributes to deforestation