What we are doing
Wildflower restoration not only supports biodiversity by allowing bees, butterflies and other species to thrive – particularly with the crucial pollen and nectar their flowers produce – but in the longer term they also improve habitat connectivity, water quality, carbon sequestration and natural flood management. All of these are crucial for nature to thrive in the future.   
Our work will focus on protecting and restoring wildflower habitats on rural land, with some programmes taking place in urban spaces.  
Our partnership sees us start new work on the ground from scratch; whether that is creating brand new sites for wildflowers from other land uses, or enhancing the conservation and management of existing meadows and other wildflower habitats.   
Our main focus will be on rural areas – such as farmland, wildlife conservation sites and publicly accessible land. But we also have exciting opportunities for urban-focused work in at least one of our three target locations.   
It takes time to restore a meadow, including identifying and preparing sites and allowing time for seeds to germinate and plants to establish. Some species take a few years from the seeds being planted to their first bloom, however these steps are critical to ensure longevity and success.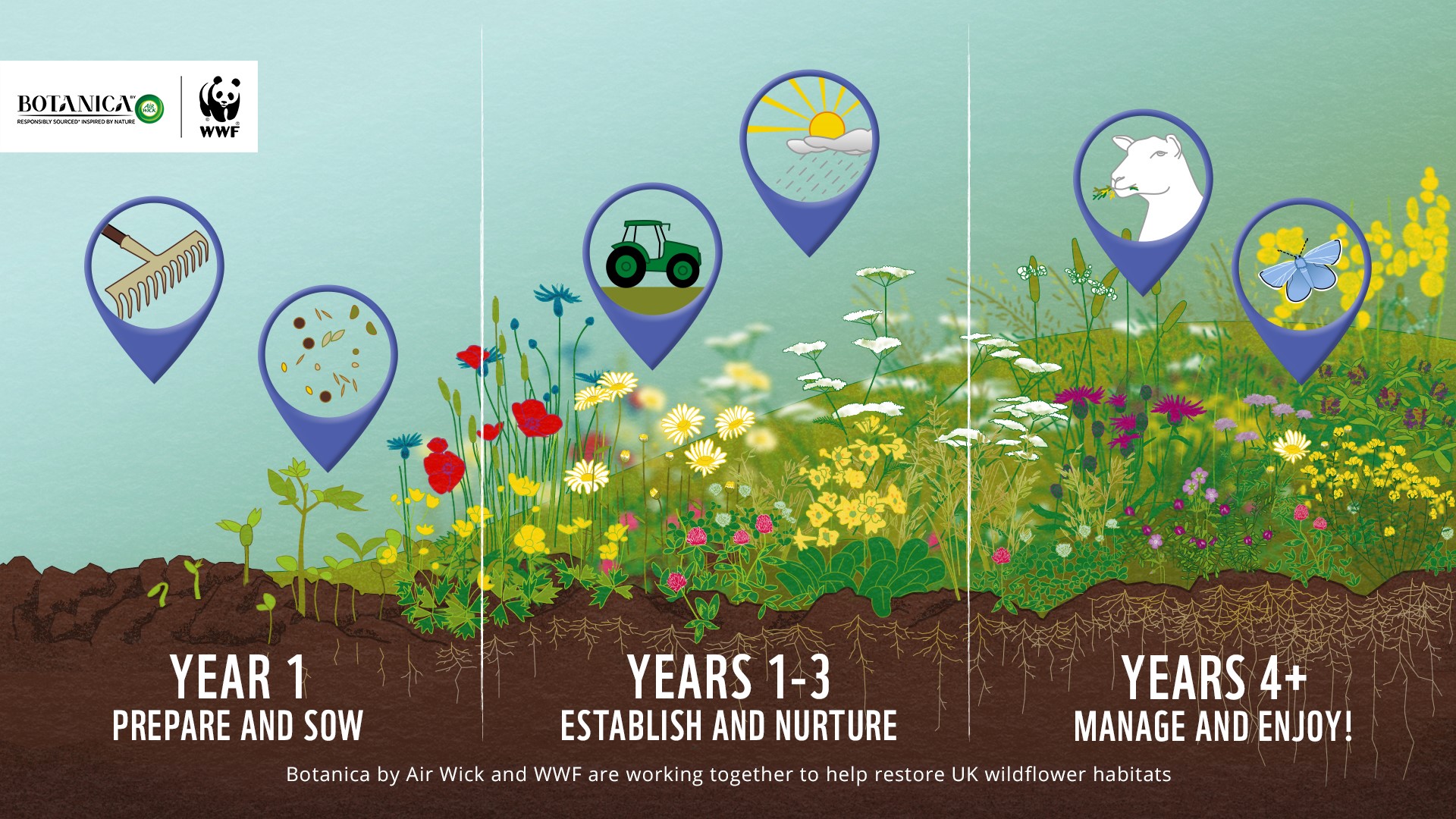 OUR HERO PROJECT 
Halstead Hill Farm is in the headwaters of the Soar river basin. It covers almost 50 hectares and, until recently, its traditional agricultural practices have meant it contains little biodiversity. We are looking to undertake two interventions at this farm.
The first is the creation of a flower-rich habitat in former arable land that has low agricultural and conservation value following long term intensive farming. The aim is to increase plant diversity to improve the value of the land to pollinators and other wildlife. Activities will include perennial weed control, scarification, and spreading of locally-sourced green hay and targeted wildflower seed, followed by carefully controlled grazing. The second is the creation of flower-rich strips along fruit tree lines. The fruit tree lines are due to be planted in the winters of 2021/22 and 2022/23. We will create additional flower-rich habitat within the 480m of tree lines - providing benefit to pollinating insects and other wildlife from both the trees and wildflowers.  
How you can help
Everyone can take action for our planet - take your first step today.