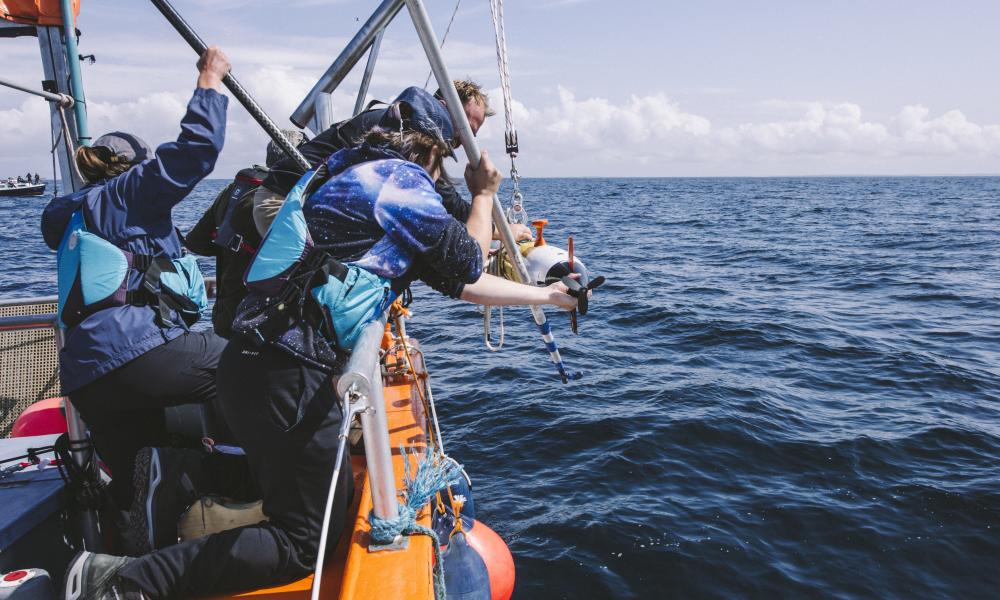 © Jane Morgan / WWF-UK
What's happening?
Underwater robot cameras have been used in the UK for the first-time to observe the behaviour of basking sharks in the Inner Hebrides.
The project involved a team of experts taking to the waves to locate and tag a number of sharks. The tag enabled the ground-breaking REMUS SharkCam autonomous underwater vehicle to then follow the animals and record their behaviour for around 6 hours.
It is hoped that the 360-degree footage gathered by the robot will uncover more about the social interactions, group behaviour and courtship of the elusive species, helping to build a case to safeguard basking sharks by protecting this part of the sea.
The project sees WWF and Sky Ocean Rescue partner with Woods Hole Oceanographic Institution, Scottish Natural Heritage and the University of Exeter.
Why the Inner Hebrides?
The Inner Hebrides is one of only a few parts of the world where large numbers of basking sharks are found feeding in the surface waters each year. It is suspected that basking sharks may even breed in Scotland - an event that has never before been witnessed.
As such an important habitat for the species it is essential that we protect it. Footage gathered through the project will help us to show how critical the location is for the sharks, which will help to support the case for creating a brand new Marine Protected Area (MPA).
MPAs are specially designated and managed to protect marine ecosystems, habitats and species, and the proposed new area would be the first in the world designated to protect basking sharks.
Basking sharks in Britain
Our sea and coasts are home to some incredible wildlife. Basking sharks are the second largest fish in the world after the whale shark and reach lengths of up to 10m.
Despite their size and prevalence in Scotland's seas, little is understood about basking sharks' social behaviours. Courtship-like behaviour such as jumping clear of the water, known as breaching, and swimming around nose-to-tail has been observed in the surface waters, but our new project will help us to explore and understand what's happening below the surface.
Individual sharks can breach up to 4 times in a row and reach speeds comparable to great white sharks!
Show your support and become a Sky Ocean Hero today.