New report
This report identifies actions the UK government can take to drive systemic change towards a sustainable and resilient economic model – a transition that all nations must make if humanity is to have a prosperous future.
In the wake of COVID, tackling the multiple interlinked crises the world is facing – climate change, biodiversity loss, food and water security, and inequality among others – requires policy makers to answer a key question: where should we focus to help drive this transition most rapidly, efficiently and fairly?
This report, commissioned by WWF UK and led by ZOE-Institute for future-fit economies (ZOE) in cooperation with the New Economics Foundation (NEF) and the Wellbeing Economy Alliance (WeAll), aims to provide answers.
Based on a comprehensive review of the literature, the report identifies the key areas of change required to bring about the transition to a sustainable economy, as set out below: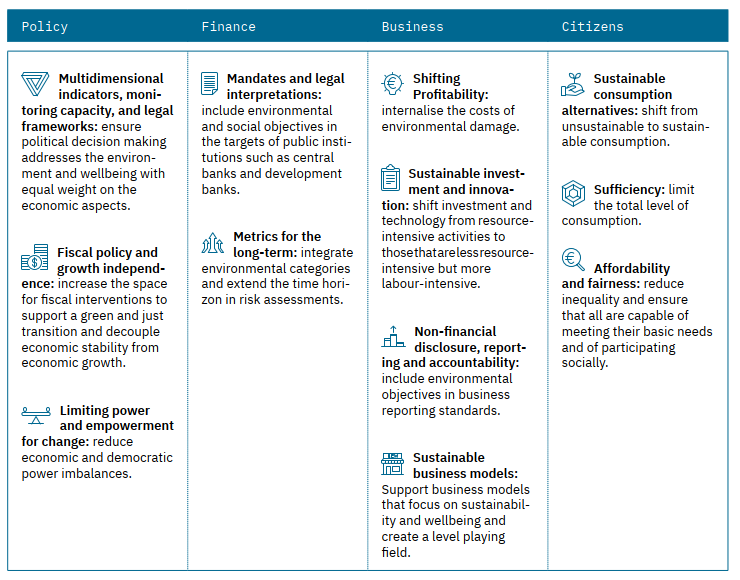 The report then identifies a set of more immediate policy changes that the UK government could implement in order to take the next key steps in the journey towards economy-wide, long-term systemic change – both for its domestic economy and to help drive change at an international level.
These included:
Introduce a UK wellbeing budget
Modernising the UK's fiscal framework and rules to embed sustainability
Establish a new national investment authority
Mandatory financial risk assessments and disclosure
Roll out green credit guidance
Introduce a land value tax
Introduce resource caps based on biodiversity impact
Introduce an environmental border tax
These targeted policies – all readily implementable in the UK, and many equally applicable in other economies – will deliver multiple gains for society, supporting both a jobs-rich green recovery in the short-term and catalysing a shift towards a more sustainable and resilient economic model for the future.
As we enter 2021 – a year in which climate, nature and economic recovery will be centre stage – we have an opportunity to change course. These proposals show the scale and nature of the reforms needed and set out the practical next steps required.
To download the report, please click here or go to the ZOE website.