WEARING IT WILD IS BETTER TOGETHER
From book clubs to bike groups there are plenty of activities you Wear it Wild as a group and all sorts of ways you can make your fundraising go further.
WHEN IS IT? 
You can Wear it Wild whenever you like! Any day can be a day to get fierce for your world.
WHERE DO I TAKE PART?
At home, at a cafe, in your sports centre or your local park - you can Wear it Wild anywhere!
NEED SOME INSPIRATION?
From face painting to animal baking – we've got you covered! Check out our fundraising ideas and digital resources. The question is - what kind of fierce outfit will you choose?
HOW THE DEEPINGS CARAVAN PARK WORE IT WILD
As a life-long animal lover, Jude Young decided to host a Wear it Wild event to bring her community together in the fight for our world. At the family run caravan park, situated in the historic market town of Market Deeping, Lincolnshire, Jude got everyone involved to help organise her roarsome event!
"I wanted to take part in WWF's Wear It Wild campaign because I have always supported WWF with what they do and I wanted to get involved myself. I've always been an animal lover and I want to do my best to help the world before it's too late." 
Jude had seen Wear it Wild on the WWF website and thought it would be a great way to bring everyone together for a good cause. After signing up online, Jude received the fundraising pack in the post, ready to start planning for the big day. Jude used the Deepings Caravan Park website to promote the event, as well as posting on Facebook and social media channels to keep everyone updated. 
"When I got in touch with WWF, they were so helpful in sending a pack. It had everything that I needed including money boxes and table leaflets with useful information about what WWF do. These little details helped inform people who visited us in what WWF help to do with the world."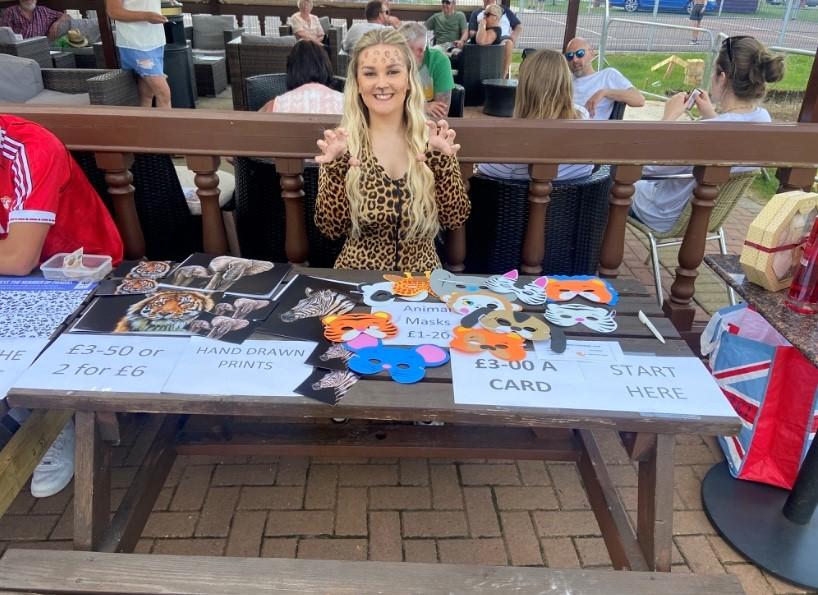 © Jude Young
Once registered, Jude set about planning for the event and managed to source some brilliant prizes for the day including bowling tickets, pizza vouchers and a two night stay in a glamping pod. Her sister also drew a number of limited edition pictures featuring endangered animals, which were sold on the day to help raise funds. Friends also helped with bringing baked goods for a cake sale too!
"Everyone loved the day! We had different stalls including cakes, paintings, and even did a colouring competition. To top it off, we did an animal themed quiz. The day was full of laughs and everyone had a really good time."
Kicking off the evening quiz, Jude gave a humbling speech talking about her passion for the environment and the threats our planet faces. When she mentioned the decline of the white rhino and how there are sadly no 'northern' white rhinos left in the wild, and only a handful in captivity, there were comments of shock and disbelief from guests. Whilst sobering news, it was a great opportunity to share the plight of the planet with a wide audience who in turn, dug deep to help Jude raise donations to support our cause. 
To finish, she thanked everyone for their participation and (after a short drum roll from the venue) announced they had raised over £500 from the day, an incredible amount! Everyone who got involved had a fantastic time and expressed how knowing they had also helped support our environmental work put a smile on their face. 
"My one piece of advice to someone who is getting involved in a fundraiser is to get others involved. The more people involved, the more fun it is!"
Inspired by Jude's story? Sign up today to receive our free fundraising pack and start organising your roarsome event! Don't forget, you can contact us at any time for support and advice using the email wearitwild@wwf.org.uk